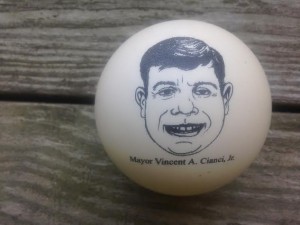 The standard punchline to the Buddy Cianci joke has long been, "And if you think it's bizarre that he's been twice removed from office for committing felonies, the really weird thing is he'd probably get elected again if he ran!"
But what if this isn't a joke? A new WPRI/Providence Journal poll indicates some 38 percent of likely Providence voters don't think that it is.
That's the percent of poll respondents who said they will vote for Cianci to again be mayor of Providence. Democrat Jorge Elorza won 32 percent and 6 percent supported Republican Dan Harrop. "Cianci takes the lead," screams two-thirds of the top of ProJo's page A1 this morning (we're also at war again in Syria and Iraq, fyi = other 1/3). But it's not as bad as this morning's headlines may suggest (few things ever are).
Here's the good news if you think Buddy Cianci is best left as the punchline to an old bad joke: 21 percent of likely voters have yet to make up their minds.
"With more than a fifth of voters undecided, Buddy Cianci holds a six-point lead over Democrat Jorge Elorza," RIPR's Ian Donnis ledes in his account of the poll results. The first thing a reporter mentions tends to matter a lot, and this is no exception. Given the ensconced support both Elorza and Cianci can both brag about ("We found overwhelming commitment to both Buddy Cianci and Jorge Elorza," pollster Joe Fleming told WPRI) this 21 percent probably gets to pick Jorge Elorza or Buddy Cianci is the next mayor of Providence.
And there's little reason to suspect this all-important 21 percent will break towards Buddy.
The ProJo's John Hill ledes his story thusly: "Vincent A. Cianci Jr.'s criminal record could be a problem for him among undecided voters as he tries for a second comeback to City Hall…" Among the undecided voters, more than 60 percent seem likely to factor in Cianci's criminal history if and when they ultimately decide on a candidate, Hill reports.
And WPRI cohorts Tim White and Ted Nesi sneak this line into their post: "But there is also a red flag for the former mayor in the numbers: among undecided voters, slightly more view him unfavorably (40%) than favorably (38%)."
Also buried in WPRI's report: "None of the three candidates for mayor are as well-liked as Angel Taveras, who has said he will do "everything I can" to help Elorza."
So even though it seems like more likely voters like Cianci than Elorza, it still seems unlikely that more voters will vote for Cianci than Elorza.
Elorza is already has 32 percent support and nobody knew him a year ago. The poll indicates 37 percent of Providence voters still don't know him and he will get a ton of help introducing himself to them – see this, this and this.
Meanwhile, Cianci may well be the most famous Rhode Islander ever, both here and abroad, and he's only got 38 percent support. The poll says 9.9 percent of voters didn't know enough about him to offer an opinion, and this is actually one of the more surprising results to me. I thought everyone knew that old joke.