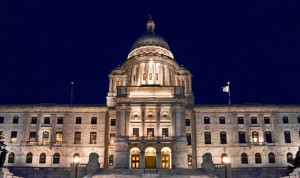 Perhaps the biggest policy proposal in the draft budget is the idea to merge to board of regents, which currently oversees elementary and secondary public schools, and the board of governors, which oversees public higher education, into one board of education.
The nine member board would be appointed by the governor and would employ a chancellor of education whose responsibilities would be "determined by the board of education," according to Article 4 of the proposed budget bill. The current commissioners of education "shall be subject to the direction and control of the board of education."
House Finance Committee Chairman Helio Melo said the idea is to "make the education system in the state more efficient and effective." Because of Rhode Island's small size, he said, the two current education boards should be able to merge into one sort-of super committee that would oversee all public education in the state.
Melo and others said the proposal is in the nascient stages.
"Is it a plan to combine the staffs of the two [education] organizations, I don't know," said Tim Duffy, the executive director of the Rhode Island Assocation of School Committees. "There's a lot that still needs to be straightened out."
According to the bill, the change would take place in 2014.
Rep. Frank Ferri, a progressive Democrat from Warwick, said, "I don't disagree that we need to see if we can make the system more efficient and responsive, but I'm concerned about the time limit. In Vermont and Florida it took five to seven years to create.
Melo said, "I don't think it will take years but it will take months. It's going to be  very long process."