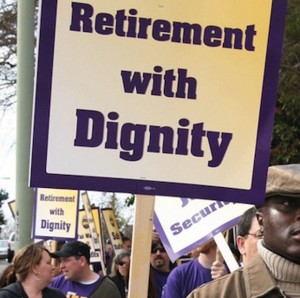 The biggest debate of the budget process turned out not to be about a moral obligation to Wall Street but rather a moral obligation to Rhode Island retirees.
While the local media (this site included) focused on the debate concerning a $2.5 million payment to 38 Studios bondholders, the bigger debate during last night's marathon budget session concerned a $12.9 million payment to the state pension program.
Defecting from House leadership, a wide spectrum of Democrats and Republicans struck down a proposal that would have eliminated an extra payment to the pension system negotiated into the landmark pension reform process of 2011.
"I feel like we are going back on our word and that's not how I like to operate," said Rep. Jared Nunes.
For those of you who don't understand the concept of a moral obligation outside of the bond market, this pretty well sums it up in layman's terms! Many lawmakers, however, put the pension payment in the exact parlance of a moral obligation (a meta-concept RI Future has dedicated many pixels to championing).
"If 38 studios is a moral obligation, what is this?" said progressive Rep. Larry Valencia, of Richmond, according to the Providence Journal. "I contend this $12.9 million is a moral obligation as well."
While I don't like this specific law (I wrote about it last week here) for the same reasons I don't like the law that guarantees bondholders get paid before pensioners – it sets up a tiered system of budget priorities – I do also understand it as a moral obligation.
"We hurt people's pensions," said Joe Trillo, a Republican who supported pension cuts in 20111 and paying the $12.9 million this year. To then go back and nix a silver lining would add insult to injury.
Much more than I take umbrage with the law, I love the debate it has inspired as the 2013 legislative session winds down. The idea that the state has a moral obligation to retirees was unmistakably the theme of the debate last night and RI Future has been publishing posts about this for months now.
This is not only as big victory for the labor movement, but also for the wider progressive movement: a moral obligation has morphed from being a strictly financial concept to being a political and philosophical concept in our marketplace of ideas. In the financial markets, a moral obligation literally means you don't have to do it, but it may cost you money in the long run. In real life a moral obligation is something you do whether it's in your own self interest or not.
This gives me hope that our elected leaders will start actually governing instead of simply trying to cut down a spending plan artificially capped by conservative thinking. We have no moral obligation to austerity – though it may or may not be good for our economy; so far it hasn't shown benefits. We do however have a moral obligation to fully fund our promises.
That didn't happen last night, though. House leadership, specifically conservative Democrat Nick Mattiello, conceded the goal was a noble one, but said proponents had failed to identify a way to fund it.
"The $12.9 would have to come out of something," WPRI quoted Mattiello as saying.
This, of course, isn't true because it assumes the only way to fund government is to cut something else in government (a false choice the many have fallen for during the era of austerity)
Rep. Valencia reminded Mattiello, leadership, the House and those of us watching at home, that in fact both he and Rep. Cimini had income tax increase bills vetted that would raise enough revenue and more.
"A quarter of a Cimini," would suffice, Valencia said, or a one-fourth of the 2 percent income tax increase the progressive Rep. from Providence proposed on those who make more than a quarter million dollars annually.
The budget debate was put on hold early this morning and continues later today. Whether or not a "quarter of a Cimini" is in play as legislators continue to debate the tax and spend plan will depend on just what kind of moral obligation our elected officials feel they have to the totality of their previous promises.
I know I feel we have a higher moral obligation to keep our word on pension reform than we do to keep in place a tax cut given to the richest Rhode Islanders.