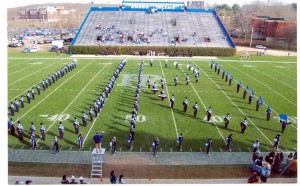 Should URI Faculty get a 3 percent raise? Let me tell you a story and you decide.
URI is the big kahuna among the three institutions run by the Board of Governors. It educates about 16,000 students, around 10,000 of whom are from Rhode Island. Researchers there pull in about $80 million each year in research funding, largely from federal sources, like the National Science Foundation and the National Institutes of Health, but also from corporate sources.
There are some important financial issues going on at URI, and none of them are about raises for faculty. One is that state dollars continue to decline in importance to URI's budget. Twenty years ago, state general revenue funding of $57 million provided about a quarter of the overall budget of $214 million. Today, we provide $75 million for a budget of $705 million, or just a tiny bit more than 10% [B3-46], making URI essentially a private university with a small public subsidy. State contributions over that time grew at an average rate of 1.3 percent per year while the overall budget grew more than four times as fast.
The Governor is proposing to raise the state's contribution by a little more than $3 million, which is $2 million more than level funding, so that will hike the percentage of the budget contributed by the state a smidge.
But wait, shouldn't we be concerned about growth of more than 6 percent a year? Why yes, we should. This is a national problem; universities across the country are seeing this kind of cost inflation. Tuitions are pretty much the only thing around that rivals health care costs in the inflation department.
So what is URI spending its money on? Answer: Not professors. To teach more or less the same number of students, URI has almost a hundred fewer professors than it did in 1994. (I've used the 1994 personnel budget in this, because they changed the presentation that year and it matches the 2013 presentation better.) In 1994, the "Education and General" part of the budget had 623 professors of the three ranks (full, assistant, and associate), and in 2013, we expect to have 540. The collection of all full professors have seen their pay climb about 2.8% per year over that time.
Looking at the administration shows a different picture. The top couple dozen administrators—the deans, provosts, and vice presidents—have seen their pay go up an average of 4.5 percent per year. There aren't more people at the top level of administration, but in 1994, there were 65 people with the title of "Director" of something (or assistant director), and in 2013, there are 89. Individually, their salaries didn't grow quite as fast as all the deans' and vice-presidents, but because there are so many more of them, they also saw approximately a 4.5 percent average growth rate.
That kind of growth is high, but doesn't make it to 6%. How about capital projects? In 1994, URI spent $6.4 million on construction and debt service. This year we're looking at $68 million, and next year it will come down to $59 million. This is a growth rate of 13 percent a year! If you walk around one of the URI campuses, you'll see lots of new buildings. But few of them are very crowded.
The other huge growth is in the account that provides student aid to cover rising tuition costs. Tuition this year is expected to go up 9.5% as it has for a number of years in the past. Consequently, the aid bill also rises very fast.
So that's the story: declining aid from the state, declining numbers of professors, increases in administrator pay and numbers, construction of fancy new buildings, and huge increases in tuition. The construction part makes it seem like investment, but all together, does that really sound like an investment in education to you?
There's another dimension here. By 1995, URI had already lost a tremendous proportion of its state aid budget. In 1989, state dollars covered 58 percent of the budget, but by 1994 it was down to a quarter. This was a crisis. The University (under its new President Robert Carothers) responded by doing a revenue analysis of all the departments, to see which ones made money, and they abandoned most of the programs that didn't. They stopped admitting students in 47 degree-granting programs, including 16 in science and engineering. From a financial perspective, this seemed to make sense, though it was virtually unprecedented in American university administration.
From an academic perspective, the benefit was hardly as clear. Consider philosophy. URI still teaches some introductory level philosophy courses, so they still need some faculty. So if you love philosophy enough to pursue a doctorate in it, what URI has to offer you is a career of teaching classes to students who don't really care about it. This immediately makes URI a second choice for anyone in that field. Maybe you don't care about philosophy, but there were 46 other programs that got the same treatment.  Is that the best way to get good faculty?  How about not giving them money?
Now I learn from a 2010 "Research and Economic Development" presentation to the URI Strategic Budget and Planning Council that over the ten years from 1996 to 2006, URI saw its research funding grow by 29 percent. Over that same time, UNH saw its research funding up by 271 percent, UVM's went up 162 percent, and UConn saw its funding rise 136 percent. (All larger than the national average of 117 percent.) This was immediately following that downsizing. Do you think maybe this could have been related to a shrunken faculty? Downsized programs?
The presentation was clearly meant to show how worried the University should be about this poor showing. After all, after educating students, research is most of the point of an institution like URI. Research brings in grant funding, research builds prestige, and research is where the real economic benefit of universities comes from.
But not to worry. The folks who put together this presentation had a plan, which was, I gather, put into action. Their plan: Create a new Vice President.