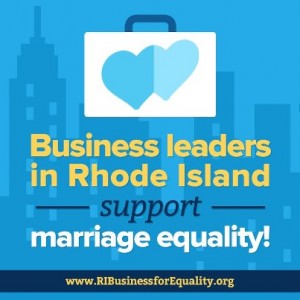 From big city chief executives to small town chambers of commerce, the Rhode Island business community supports marriage equality, too.
"This is about competitiveness and creating an economic climate that allows Rhode Island to attract the best and brightest talent and employers," said Alan Hassenfeld, former CEO of Pawtucket-based Hasbro, in a statement released today. "To be competitive, a state must create an equitable, fair and respectful environment for all of its citizens. From a business point of view, passing marriage equality just makes good sense."
Rhode Islanders United for Marriage Equality announced today that "In recognition of the significant and positive impact marriage equality will have on the Ocean State's economy, leaders from across the state's business community today announced the launch of Rhode Island Business Leaders for Marriage Equality."
The most politically significant member might well be the Newport County Chamber of Commerce's support. This means Senate President Teresa Paiva Weed will have to choose between her religion and her constituent's economic interests when she weighs whether or not to support same sex marriage.
"The Newport County Chamber of Commerce said it best: Without marriage equality, Rhode Island puts itself at a significant economic disadvantage by not recognizing and respecting all loving, committed couples in the Ocean State," Sally Lapides, president of Residential Properties Ltd, said in a statement. "Ours is the only New England state without marriage equality, and Rhode Island firms are losing business. That's why we need the General Assembly to pass this important legislation."
Another influential member of the business group for marriage equality is Providence Journal publisher Howard Sutton.
You can see the entire list here and pledge your support.