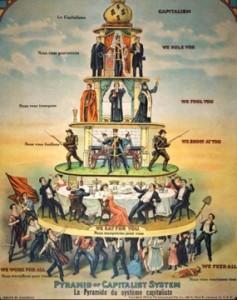 In past posts, I have explained actions that businesses–usually large corporations–have taken that are decidedly contrary to the interests of the general public. For this, commentors have claimed that I'm anti-business, that I'm using scare tactics, I'm just a socialist, or some combination thereof.
However, in the news over the past month or so we have seen two excellent examples of Business Behaving Badly. The first, of course, was the decision of MetLife to summarily fire all of its Life Administration employees here in RI and other parts of the Northeast and across the country, in order to move those jobs to North Carolina. MetLife is firing these people in order to pad its already high profits: $1.4 Bn for 2012. That seems to be contrary to the interests of the general public.
And yes, these people are being fired. There is no other word that accurately describes what is happening. Fired. For no fault of their own. Without cause. With no justification other than it better suits Met's interests. A lot of these people have worked loyally for Met for periods often measured in decades. The reward for loyal service is to be fired.
How does that fit with the propaganda that the free market will take care of employees better than any government? Answer, it doesn't. What it does do is illustrate to perfection how a corporation will take care of its own needs, regardless of the number of lives that are damaged in the process. It's all about increasing the benefits that flow in a torrent to those already at the apex of the financial pyramid.
The second example is the explosion of the fertilizer plant in West, Texas. Now, from what I can gather, this plant was not part of some multinational corporation. A company like Met could have bought and sold it out of the spare change in the couch cushions. But it was a business, run for profit. One way of increasing profit is to cut corners on safety issues. Despite the fact that ammonium nitrate was the explosive of choice used by Timothy McVeigh in the Oklahoma City bombing, those in charge of the fertilizer plant did not consider this a safety risk, Records indicate that the risk that concerned them most was the possibility of a leak of ammonia gas. This would be a bad thing, but not catastrophic.
So the company took no steps to mitigate the possible risk. Why not? Because they did not see the need, and taking steps would have cost money.
Now, it appears that no one in the town particularly blames the company, and the company was certainly not a rapacious corporation hell-bent on increasing profit. Still, the fact remains that no safety precautions were taken, and fifteen people are dead because of the lack of precautions.
The third example is the worst and most blatant of all: the collapse of the building in Bangladesh.
One thing we all hear about is the need for 'common sense'. Doesn't it seem that 'common sense' should include taking precautions to reduce the risk of a fire at a plant that stores large quantities of highly-explosive material? If you're making dynamite, shouldn't you build risk-mitigation into your plans? And ammonium nitrate, in the quantities on hand at the fertilizer plant is every bit as dangerous as dynamite. You can take Timothy McVeigh's word on that. Doesn't 'common sense' tell you to build a building so it won't collapse?
It also appears that the fertilizer company may not have actually broken any laws. That also seems to be part of the problem. The plant is in Texas, and Texas prides itself on being a land of lax regulation. So fifteen people died so Texas could maintain its macho image of 'hands-off' conservatism. IOW, it's more like Bangladesh, and less like the rest of the US that foolishly insists on standards. More, 68 people have died in mining accidents in the new millennium. The common thread of all these deaths is the lack of safety precautions. Why did the companies in question not take proper precautions? Because they cost money, and no one made them take the precautions.
In many ways, the impression is that the West Fertilizer Company was actually a fairly benign employer. In many ways, that only makes things worse. If this is how a well-intentioned company acts, how much worse are those actively looking for corners to cut?
This is how business will operate in an unregulated, or lightly-regulated market. Most businesses will be responsible, but there will always be a few who don't. And when these businesses behave irresponsibly, and profit from this lack of concern, others will mimic that behavior and start cutting corners, too. And people will die. And it doesn't have to be a business like mining, or fertilizer production with their built-in dangers; it could be the result of locked or nonexistent emergency exits, as happened in the Hamlet, NC chicken plant fire where 25 people died, or the even more horrific Triangle Shirtwaist fire, which killed over 140 people.
We are told that regulations in the US are too onerous. That they cost businesses money, and so jobs. We are told we need to lighten the regulatory burden on business, so that we can create jobs. IOW, we need to become more like Bangladesh, with its light (non-existent? Certainly not-enforced) regulations, no unions, and starvation wages for its employees.
You get what you pay for.
This is what happens when businesses are left to police themselves. Things are no different now than they were a century ago.
Businesses behaving badly

,