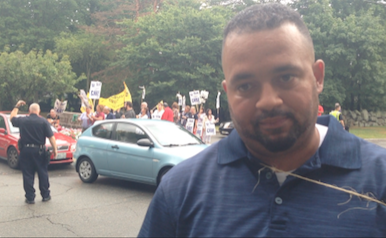 Tony Woods is an intake coordinator in the emergency room at Butler Hospital, the state's only psychiatric ward. It can be a dangerous job, he said.
"One time I was trapped in a room with a guy who presented with a knife," he said. "It was just me and him. It's very tough, very tough. We see those situations more and more. People are getting sicker just because of the times and it's very taxing on us."
Making matters worse, Woods said, is staff levels at Butler have been decreasing in recent years. "We're down one person per shift" on a regular basis, he said. "Sometimes we are down two people per shift."
Noting there is often a 20 to 1 patient-to-staff ration in the Butler emergency room, he explained how the staff-to-patient disparity can be problematic not just for staff, but also for patients.
"We're doing more with less staff," he said. "It makes it a very unsafe and hazardous place."
The staffing levels at Butler Hospital are one the reasons employees, amid contract negotiations with management, organized a picket in front of the facility on Blackstone Boulevard yesterday. The employees took to the streets because negotiations have been "terrible," according to Nicole White, who works in the admissions department at Butler.
White echoed Woods concerns about low staffing levels. Both said the staff reductions, and other changes, are profit driven.
Care New England, the parent company of Butler Hospital, CNE is being acquired by Southcoast Health Systems, of Massachusetts. "Combined, our two systems would comprise an eight-hospital, $2 billion-plus entity with more than 15,000 employees," Southcoast executives said in a letter, according to the Boston Business Journal. The new company is slated to be called Newco Health Systems and will be located in Deleware, although its assets will be in Rhode Island and Massachusetts. The Rhode Island Department of Health recently denied Care New England's request for an expedited merger with Southcoast.
White says Care New England CEO Dennis Keefe had promised her he would address employee concerns about staffing levels. She's still waiting for a response.
The Butler employees are represented by SEIU 1199NE, who told the employees after the action that if negotiations remain stalled they should consider filing a strike notice. In healthcare, labor unions are required to give management 10 days notice of a work stoppage.
Butler Hospital employees say staff levels too low

,