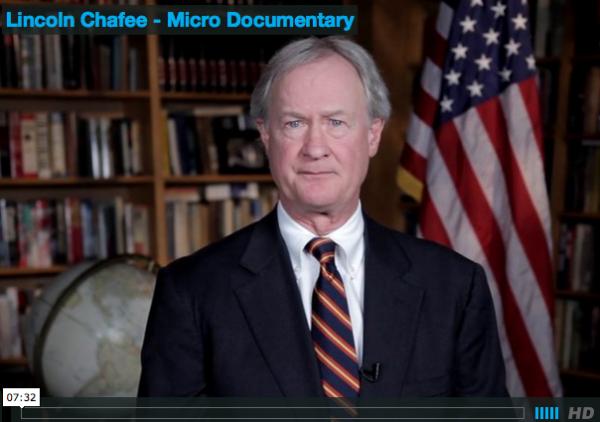 When Warwick resident Linc Chafee formally declares his candidacy for president of the Unites States today he will be the first Rhode Islander since local progressive icon Richard Walton (for whom the Red Bandana Award is named) ran in 1984 as a member of the Citizens Party.
Chafee, who would launch his political career two years after Walton's failed bid to become the president, hopes to capture the Democratic nomination in 2016. He'll presumably outperform Walton, who won 240 votes in Rhode Island that year. But the progressive Chafee needs to best isn't Richard Walton. It's Bernie Sanders.
"The first obstacle Chafee faces is not Hillary Clinton, it's Bernie Sanders," Larry Sabato told Rhode Island Public Radio.
A fiercely unapologetic leftist, Sanders is tough competition for anyone seeking the progressive vote. He has a track record of implementing progressive reform – and winning free market converts and economic improvement in the process – as the mayor of Burlington, Vermont.
Sanders is as tough as they come in addressing America's wealth gap, which remains an unaddressed issue that most voters are united against. Chafee, for his part, isn't well-situated to steal any income inequality thunder from Sanders. As governor of Rhode Island, he resisted raising taxes on the rich and instead focused on broadening and lowering the sales tax.
But perhaps Chafee has an edge on national security and international diplomacy. They both oppose the war in Iraq, but Chafee did so as a Republican and won oodles of respect for doing so. NPR this morning called him, "the last liberal Republican to serve in the U.S. Senate."
Yesterday Chafee tweeted in regards to the USA Freedom Act, "Congratulations to Congress for standing tall for civil liberties! Now let's bring Snowden home. He has done his time." Sanders, for his part, hasn't gone quite that far on Snowden.
Maybe there's a way for Sanders, the fiery populist, and Chafee, the principled moderate, to form a ticket together?