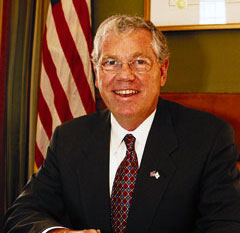 It turns out even Republicans are miffed at Don Carcieri for hiding from the media when one of his signature decisions as governor blew up in the face of Rhode Island.
"Former Gov. Donald L. Carcieri's long silence on the 38 Studios bankruptcy wound up putting fellow Rhode Island Republicans on the spot this week at Mitt Romney's nominating convention," wrote correspondent John Mulligan in today's ProJo. "Carcieri, the delegation's most prominent exponent of running a government according to sound business principles, declined to be interviewed Wednesday about his role in a state-backed loan guarantee for former Boston Red Sox star Curt Schilling's company. The failed deal may leave Rhode Island voters on the hook for up to $102 million."
That Carcieri broke his long silence on the 38 Studios debacle once it "wound up putting fellow Rhode Island Republicans on the spot" speaks to our post on Carcieri from Thursday in which we wrote: "Carcieri always represented conservatives first and then Rhode Islanders somewhere after that."
Carcieri broke his silence on 38 Studios not when Rhode Island was most desperate for answers about it, but when Republicans were most desperate for cover.
Apparently that cover didn't come quick enough.
Because Carcieri thought he could dodge the issue indefinitely, it ended up becoming a story when other Republicans had to answer for him. So not only was Carcieri's tack on 38 Studios selfish, it was foolish too.
Here's what some prominent Republicans told Mulligan about how Carcieri handled the situation:
"I would probably have spoken about my role" in such a loss of taxpayer dollars and Rhode Island jobs, said John Robitaille, Carcieri's former communications chief.

"A lot of people are wondering" what went into Carcieri's "business judgment" that the 38 Studios venture was a good investment of Rhode Island tax dollars, [Cranston Mayor Allan Fung] said.

Rhode Island's incoming GOP national committeeman, Steven Frias, said Carcieri's support of Schilling's video venture will dog the state's Republicans for a long time…