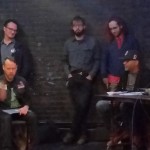 By Steve Ahlquist on November 13, 2015
A new low-power FM community radio station is planned for Providence early next Summer. How can you help?
Posted in Arts & Culture, Featured, Media, Music, News, Providence, Rhode Island | Tagged 101.1, APB Radio, AS220, Brown Student and Community Radio, BSR, FCC, jared paul, José Ramirez, PCR, Providence Community Radio, Reza Clifton, Sonic Watermelons, Wesli Dymoke | 2 Responses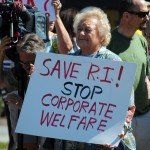 By Steve Ahlquist on September 5, 2015
Director Murray Scott lead the crowd in singing the song, from cue cards, four times as volunteers stopped traffic. Surprisingly, none of the drivers of any of the cars evidenced anything but support for the effort, despite the inconvenience of being stopped. instead drivers honked horns, waved, or gave thumb's up to the efforts of the singers.
Posted in Activism, Arts & Culture, corporate greed, Events, Music, News, Photos, Rhode Island, Sports, Video | Tagged David Norton, McCoy Stadium, Nicholas Mattiello, PawSox, pawtucket red sox, Sharon Steele, Tim Empkie | Leave a response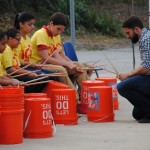 By Steve Ahlquist on July 27, 2015
Sister Ann Keefe "was not a saint, she was better than that. She was human," said her sister Kathy Keefe to an impressive crowd of 200 people at the newly christened Sister Ann Keefe Post Office at 820 Elmwood in Providence.
Posted in Activism, Arts & Culture, Civil Rights / Liberties, Class Warfare, Education, Events, Featured, International News, Labor, Music, National News, News, People, Photos, Providence, Religion, Rhode Island, Video, Women, Youth | Tagged David Cicilline, Elijah Matthews, Institute for the Study and Practice of Nonviolence, James Langevin, Kathy Keefe, Mary Blanchet, Pamela Matthews, Sister Ann, Sister Ann Keefe Post Office, Victoria Matthews, ¡City Arts!, ¡City Arts! Bucket Drummers | Leave a response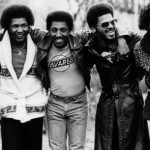 By Herb Weiss on May 2, 2014
Arthur "Pooch" Tavares, with nearly 60 years in the music business, continues to reach out to his old fans and to new generations as well. The 70 year old Tavares is still performing about 75 concerts a year all over the world with three of the brothers (Perry "Tiny," Antone "Chubby" and Feliciano "Butch") who […]
Posted in Featured, Music | Tagged Arthur "Pooch" Tavares, aturday Night Fever, Bob Billington, Castaleers, Cheryl Wheeler, Duke Robillard, Francis Madeira, Freddie Scott, More Than A Woman, Paul Gonsalves, Randy Hien, Rhode Island Music Hall of Fame., Rhode Island Philharmonic Orchestra, Rick Bellaire, Tavares, The Bee Gees, The Met, Winston Cogswell | Leave a response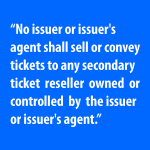 By Frymaster on April 24, 2014
On the surface, the Ticket Fairness Act, pending in the General Assembly, looks like a consumer protection act that hurts the scalpers. In reality, it is exactly the opposite. As written, the law allows venues and ticket agents to transfer to themselves any quantity of tickets to resell at inflated prices. As with many things […]
Posted in Arts & Culture, Business & Tech, corporate greed, Economy, Featured, Music, Politics, Providence, State House | Tagged Dunkin Donuts Center, josh miller, Live Nation, scalpers, StubHub, Ticket Exchange, ticket resellers, Ticketmaster | Leave a response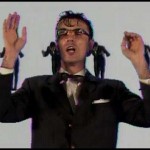 By Frymaster on October 16, 2013
Former Talking Heads frontman David Byrne's recent article in the Guardian lamenting the impact of streaming services like Spotify has appeared one too many times on my social media timelines to spare you all the following rant. In brief, the piece reveals Byrne as a one-percenter with no real sense of the lives and needs […]
Posted in Arts & Culture, Featured, Music | Tagged Copyright, David Byrne, streaming music, talking heads | 7 Responses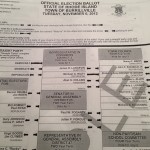 By John Marion on April 14, 2013
Bob Plain has spent a lot of time in a back and forth with Ken Block about the issue of eliminating the straight-party option (a.k.a. master lever), even bringing in Speaker Gordon Fox to defend its place on the ballot. I'd like to move the debate away from questions of political motivation and toward some […]
Posted in Featured, Music, Politics, State House | Tagged common cause, Ken Block, master lever | 9 Responses
By Peter Nightingale on December 13, 2012
"What do I know that would cause me, a reticent, Midwestern scientist, to get myself arrested in front of the White House protesting? And what would you do if you knew what I know?" With these questions James Hansen opens his riveting presentation Why I must speak out about climate change on TED. Hansen, whom […]
Posted in Congress, Criminal Justice, Democrats, Environment, Featured, Music, Republicans, What Went Wrong, White House | Tagged Fiscal Cliff Scam, global warming, raging grannies, Sacrifice Zones | Leave a response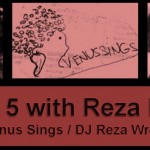 By Reza Rites on March 12, 2012
Heard of South by Southwest, but can't be in Austin yourself? Pop in daily to "Take 5 with Reza Rites" on RIFuture.org for photos and live updates about her adventures at the annual festival – or follow her on Twitter and Facebook @rezaclif. Besides blogging for RI Future, Reza will be recording interviews and footage […]
Posted in Arts & Culture, Featured, Music, National News, Race & Racism, Reza Rites at SXSW | Tagged 2012, Barack Obama, Elections, isis storm, Occupy Movement, Politics, Providence, Rhode Island, Sonic Watermelons, venus sings, Voting | Leave a response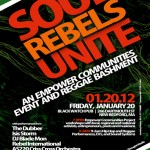 By Reza Rites on January 19, 2012
(RHODE ISLAND, MASSACHUSETTS) – If I were to describe some of the events I have coming up as political, I'm sure someone would ask me, "hey Reza, what is political about an event featuring spoken word poetry and world rhythms?"  This is the type of question I love to answer, though, sadly, few seem to […]
Posted in Arts & Culture, Civil Rights / Liberties, Elections, Events, Multimedia, Music, Opinion, Politics, Race & Racism, Rhode Island, Women, Youth | Tagged 2012, Civil Rights / Liberties, Income Inequality, Politics, Providence, Youth | 2 Responses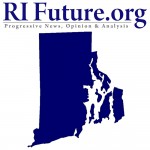 By Reza Rites on January 16, 2012
by Reza Rites / Venus Sings Click here to listen to a podcast of Brian Hull talking to me, Reza Clifton, (Reza Rites / Venus Sings) on Sonic Watermelons, a show I produce weekly on Brown Student and Community Radio (www.bsrlive.com). (PROVIDENCE, RI) RIFuture.org, which was once RI's number 1 political blog, has relaunched and re-entered […]
Posted in Arts & Culture, Multimedia, Music, Rhode Island | Tagged David Cicilline, isis storm, music, podcast, Providence, Rhode Island, rifuture, Sonic Watermelons, venus sings | Leave a response