By Steve Ahlquist on November 28, 2014
This year's Black Friday Walmart protests were organized nationally by OUR Walmart (Organization United for Respect at Walmart), a group fighting for a $15 minimum wage and fair scheduling practices of the kind recently enacted into law as the Retail Workers Bill of Rights in San Francisco. The organization of Walmart workers in Rhode Island has been lagging as compared to efforts in some states.
Posted in Activism, Class Warfare, corporate greed, Events, Labor, Occupy, Video | Tagged black friday, economic justice, fight for 15, Shut it Down, Union, walmart | Leave a response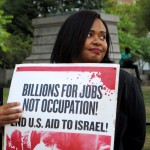 By Steve Ahlquist on August 30, 2014
From Gaza to Ferguson, we are witnessing the effects of the corporatization of the military and the militarization of the police. The alternative to the world on offer is one of courage and peace. The choice is ours.
Posted in Activism, Civil Rights / Liberties, Class Warfare, corporate greed, Criminal Justice, Defense, Featured, International News, Occupy, Providence, Race & Racism, Rhode Island, Syria | Tagged Drones, Gaza, Obama, Peace, Protest | 3 Responses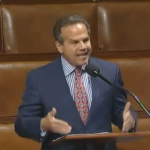 By Michael McCarthy on February 12, 2014
It is rare for me to call my elected representatives, and rarer to call them allies. Like many Rhode Islanders, I swim against a tide of cynicism. However, Congressman Cicilline, whatever brand of patriotism has motivated you to oppose the NSA and its spying, for that patriotism you have my own honor in accord. I […]
Posted in Featured, Occupy, Technology | Tagged cicilline, mass surveillance, nsa | Leave a response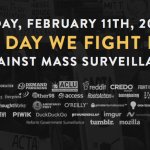 By Bob Plain on February 11, 2014
All across America today – and in Providence at 1pm – Americans will fight back against the National Security Agency and remember Aaron Swartz, the internet activist who took his own life last year and fought alongside Rhode Island's own David Segal to keep the NSA off of random American hard drives. Segal, a former […]
Posted in Activism, Events, Occupy | Tagged aaron swartz, davi segal, Demand Progress, mass surveillance, net neutrality, nsa, spying domestic spying, the day we fight back | Leave a response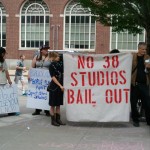 By Randall Rose on June 23, 2013
On Monday June 24th, the petition against the 38 Studios bailout will be brought to the State House for a ceremonial delivery.  So far, over 1,000 Rhode Islanders have signed the petition, and the number continues to grow.  The petition delivery will be at 4:15pm sharp, at the Smith Street entrance to the State House. […]
Posted in Featured, Occupy, State Budget, State House | Tagged 38 Studios, bondholders, state house | 1 Response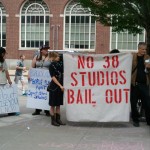 By Gus Uht on June 14, 2013
Last week, on June 6th, both a debate and a separate hearing were held whose sole focus was the 38 Studios' bonds' situation. (Related posts: first, second.) In a nutshell, my opinion is unchanged: Rhode Island should not repay the bonds. We should also outlaw such bonds. They have a shady origin (complete with a […]
Posted in Economic Development, Occupy, Politics, State Budget | Tagged 38 Studios, budget, General Assembly | 3 Responses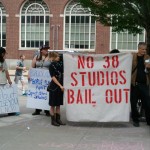 By Bob Plain on June 6, 2013
As legislative leaders draw criticism for only inviting one perspective to speak today about defaulting on the 38 Studios loan, Occupy Providence, an activist collective, and the Stephen Hopkins Center, a libertarian group, have joined forces to sponsor an event that offers a pretty good diversity of opinion. WJAR's Bill Rappleye will moderate a panel […]
Posted in Economy, Occupy, State House | Tagged 38 Studios, hopkins center, Occupy Providence, ows, Wall Street | 2 Responses
By Samuel G. Howard on April 5, 2013
The Sociological Quarterly has an entire section devoted to the Occupy Movement in its Spring 2013 volume. You can read it for free at the Wiley Online Library. While the whole section includes articles from the likes of former president of the American Sociological Association Frances Fox Piven and independent journalist Sarah Jaffe, and all […]
Posted in Occupy | Tagged Occupy Providence, ows | 2 Responses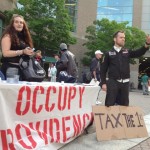 By Jared Paul on March 6, 2013
I was arrested while walking through a park at the Republican National Convention in St. Paul, Minnesota four years ago.  Along with many other alarmed citizens, I was charged with Felony Riot and taken to Ramsey County Jail.  With the support of Minneapolis Hip Hop group Atmosphere and the Rhode Island music label Strange Famous […]
Posted in Civil Rights / Liberties, Featured, National News, Occupy, Republicans | Tagged jared paul, lawsuit, minnesota, rnc, st. paul | Leave a response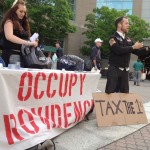 By Samuel G. Howard on December 15, 2012
If you're busy, don't read much further. Wait until you have a lunch break or are home or something. Because Quinn Norton's "A Eulogy for #Occupy" is that good. Contained within is all the hope, the pain, and the ultimate end of the Occupy Movement as we knew it. You find things like this about […]
Posted in Featured, Occupy | Tagged A Eulogy for #Occupy, hope, Occupy Providence, Quinn Norton | Leave a response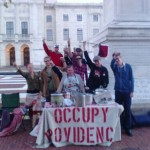 By Bob Plain on September 17, 2012
A dispatch from Jim Daly, one of the Occupy Providence activists who spent the the night protesting in front of the State House.
Posted in Events, Occupy | Tagged Occupy Providence, ows, s17, state house | Leave a response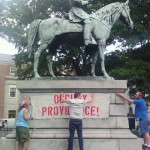 By Bob Plain on August 31, 2012
Occupy Providence is back in Burnside Park. But there are a couple of things different about this incarnation of the local 99 Percent movement. One difference is they aren't camping this time around. Not yet, anyways. But they have been meeting daily in what activists call the People's Park for a little over a week […]
Posted in Featured, Occupy, Providence | Tagged Burnside Park, Occupy Providence, Providence, Rhode Island | Leave a response