Browse:
Home
/
Unemployment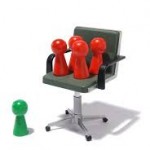 By Oswald Krell on December 1, 2013
A few weeks ago, my church had a Sunday sermon devoted to stewardship. Translated, that means how much are you going to pledge to donate to the church for the coming year? This year, the priest asked people in the congregation to stand up and explain why they gave. Now, I was a coward and [...]
Posted in Civil Rights / Liberties, Class Warfare, Education, Featured, Race & Racism, Unemployment | Tagged Civil Rights / Liberties, Education, Obama | 2 Responses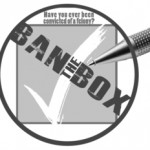 By Bruce Reilly on June 29, 2013
Yesterday, mere hours before the House passed "Ban the Box" (5507A) by a 62-3 vote, I spoke with a friend who had been told by a temp agency he is "toxic," and they could never hire him. I said this wasn't a good case for litigation under federal law. He didn't care about suing anyone; he was just feeling down about his job search. Unlike most of the 2014 college graduates (with dual degree Honors) my friend has a criminal record from age 16.
Posted in Civil Rights / Liberties, Criminal Justice, Labor, Unemployment | Tagged 5507, ACI, Ban the Box, Chaffee, criminal records, DARE, employment, formerly incarcerated, legislation | Leave a response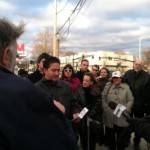 By Mark Gray on December 19, 2012
Where's the Work?, an organization of unemployed and underemployed workers in Rhode Island joined together at the netWORK RI office in Providence to call on Congress to extend unemployment insurance before the end of the year.  Some 8,700 of Rhode Island's jobless will lose their unemployment insurance on December 29 unless the program is reauthorized. [...]
Posted in Featured, Unemployment | Leave a response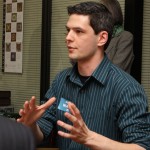 By KateBrock on December 5, 2012
Ocean State Action today announced the addition of Mark Gray to their organizing staff, naming him the new Where's the Work? campaign organizer after the departure of Aaron Regunberg, who has moved on to serve as Director of the Providence Student Union. As Where's the Work? campaign organizer, Gray will spearhead Ocean State Action's continuing [...]
Posted in Economy, Environment, Unemployment, Where's the Work | Tagged economic justice, Ocean State Action, Unemployment, Where's the Work | Leave a response