Browse:
Home
/
What Went Wrong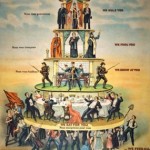 By Oswald Krell on May 5, 2013
In past posts, I have explained actions that businesses–usually large corporations–have taken that are decidedly contrary to the interests of the general public. For this, commentors have claimed that I'm anti-business, that I'm using scare tactics, I'm just a socialist, or some combination thereof. However, in the news over the past month or so we […]
Posted in Activism, Business & Tech, Class Warfare, Economic Development, Economy, Featured, Labor, What Went Wrong | Tagged Civil Rights / Liberties, Economy, Labor, Unemployment | Leave a response
By Peter Nightingale on December 13, 2012
"What do I know that would cause me, a reticent, Midwestern scientist, to get myself arrested in front of the White House protesting? And what would you do if you knew what I know?" With these questions James Hansen opens his riveting presentation Why I must speak out about climate change on TED. Hansen, whom […]
Posted in Congress, Criminal Justice, Democrats, Environment, Featured, Music, Republicans, What Went Wrong, White House | Tagged Fiscal Cliff Scam, global warming, raging grannies, Sacrifice Zones | Leave a response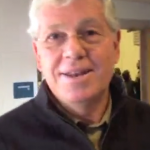 By Bob Plain on December 3, 2012
Sam Bell did such a good job putting together this series on what went wrong with Rhode Island's economy over the past several years, I thought the least I could do is make it really easy for everyone to access.
Posted in Economy, Featured, What Went Wrong | Tagged carcieri, Economy, General Assembly, state house, what went wrong | Leave a response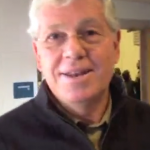 By Samuel Bell on December 1, 2012
What is so sad about the mess Rhode Island has fallen into is that it was completely avoidable. Governor Carcieri did not have to launch a jihad against public sector employment. Nor was it necessary to hand massive tax breaks to the wealthy. Had we avoided those tax breaks, we wouldn't have had to slash […]
Posted in Economy, Featured, What Went Wrong | Tagged carcieri, Economy, General Assembly, Gordon Fox, state house, what went wrong | 5 Responses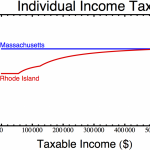 By Samuel Bell on November 30, 2012
The devastating effect of property tax hikes and the less significant effect of a high unemployment insurance tax, discussed in previous columns, probably explain most of the portion of the unemployment gap that's not explained by austerity. However, there is one more factor that might play a minor role in weakening our economy with respect […]
Posted in Featured, What Went Wrong | Tagged what went wrong | 1 Response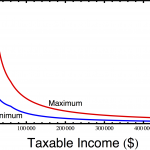 By Samuel Bell on November 29, 2012
Another singular component of Rhode Island's tax system is unusually high unemployment insurance taxes. Unemployment insurance taxes don't get very much attention (they are excluded from the graph of the distributional effect of taxes in the previous column, for instance), but they can have a very real effect on the economy, particularly in a time […]
Posted in Economy, What Went Wrong | Tagged Economy, unemployment insurance tax, what went wrong | 3 Responses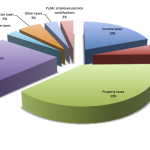 By Samuel Bell on November 28, 2012
In the previous installment, I discussed the large income tax cuts for the rich that hit Rhode Island in 2006, a major change to the economy that was followed by an early plunge into recession.  Unlike the federal government, states can't offset income tax cuts with debt. So they have to offset them by either […]
Posted in Economy, What Went Wrong | Tagged property taxes, Rhode Island, what went wrong | Leave a response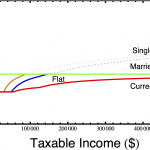 By Samuel Bell on November 27, 2012
In the previous installment I discussed the devastation wrought by massive austerity, which was the principle cause of Rhode Island's terrible jobs picture.  The traditional justification from austerity apologists is that those public sector cuts were necessary, and Rhode Island was forced to make those layoffs. Of course, this argument makes no sense in Rhode […]
Posted in Economy, What Went Wrong | Tagged income tax, Rhode Island, tax equity, what went wrong | 3 Responses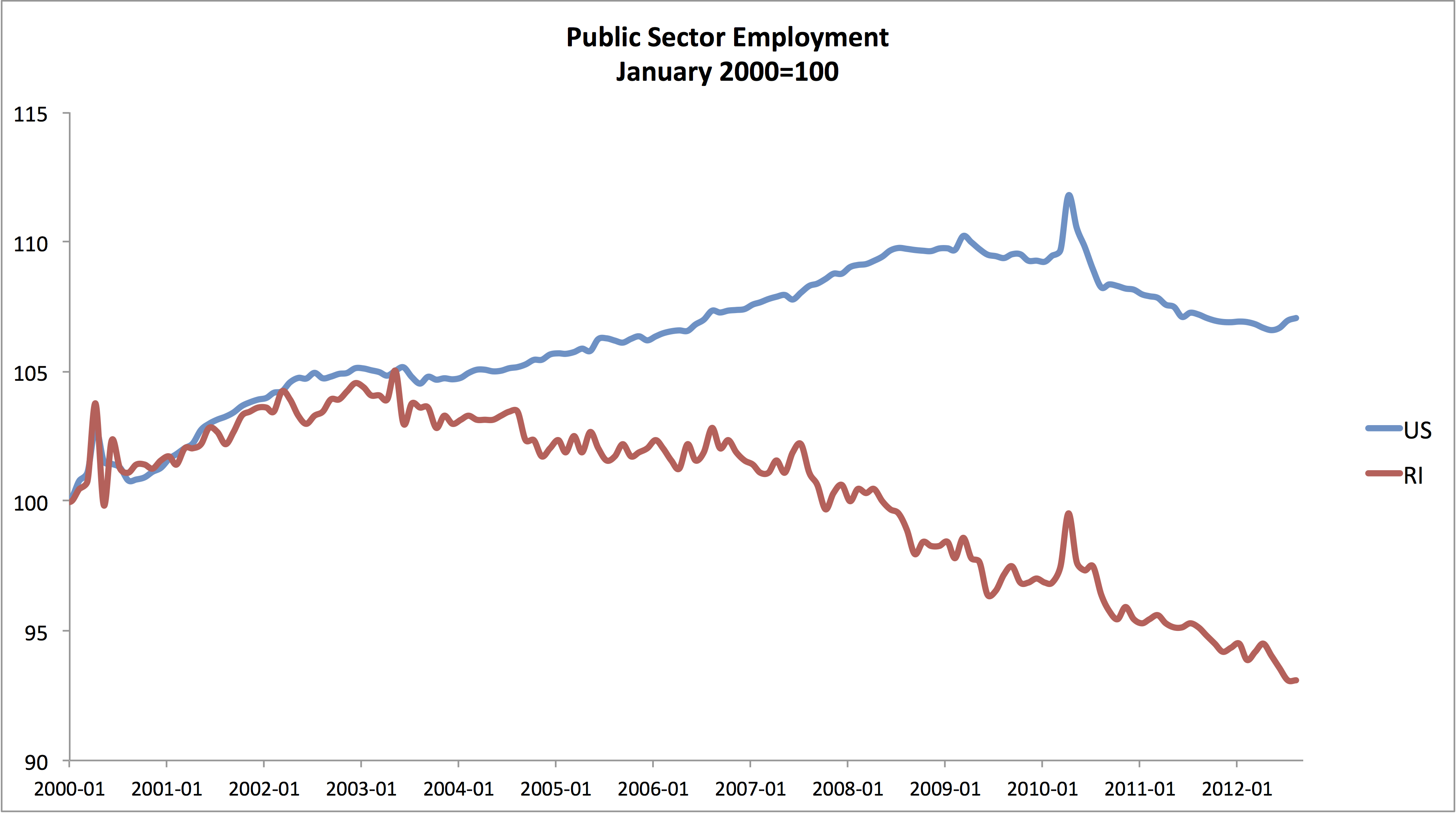 By Samuel Bell on November 26, 2012
I ended my previous post on a promise to dig into the mechanics of how Carcieri orchestrated the downfall of the Rhode Island economy. Naturally, we begin with something Carcieri took great pride in—laying off huge numbers of public sector workers. To show just how severe the public sector cutbacks were under Carcieri, I've plotted […]
Posted in Economy, Featured, What Went Wrong | Tagged austerity, Economy, Rhode Island, what went wrong | 2 Responses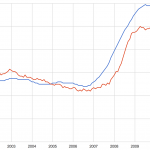 By Samuel Bell on November 26, 2012
It may be hard to remember now, but ten years ago, Rhode Island's unemployment rate was below the national average. Today, of course, it's the second highest in America. Only Nevada has a worse jobs picture. Clearly, something went very badly wrong. The question is what. In a multi-part series that will be published throughout […]
Posted in Economy, Featured, What Went Wrong | Tagged Don Carcieri, Economy, Rhode Island, what went wrong | 10 Responses