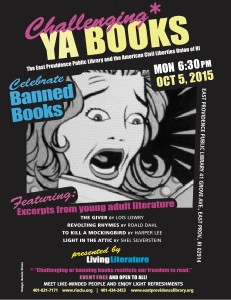 The freedom to read is the freedom to learn, to imagine, to challenge your own beliefs, and to see the world from a new point of view. Too often, that freedom is challenged by individuals who would censor important and challenging books rather than embrace them.
As part of our ongoing work to fight against censorship in all its forms, the ACLU of Rhode Island is celebrating the freedom to read at our annual Banned Books Week Celebration on October 5.
Join us, the East Providence Public Library, and Living Literature for dramatic readings of Young Adult books that have been banned or challenged over the years.
Living Literature, a collective of Rhode Island-based artists and educators who teach literature through a unique and imaginative process, has created a 25-minute readers theater program exploring the question: "Why are Young Adult books challenged more frequently than any other type of book?"
Hear them perform selections from Harper Lee, Roald Dahl, Sherman Alexie, Lois Lowry, and Shel Silverstein and see if your favorite childhood book was ever banned or censored.
Banned Books Celebration: Young Adult Authors
October 5, 2015 at 6:30 PM
East Providence Public Library
41 Grove Ave., East Providence, RI 02914
This event is free and open to all. Light refreshments will be served.