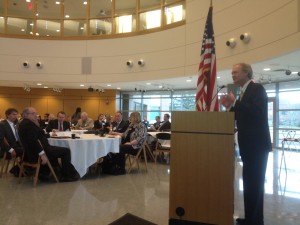 Governor Linc Chafee has long been the staunchest critic of the 38 Studios loan. He's also one of the biggest critic of not repaying it.
Today he blasted Republican gubernatorial candidates Ken Block and Allan Fung for suggesting the state shouldn't make payment on the moral obligation bond to service the 38 Studios loan debt.
Here's the governor's statement in its entirety:
The candidates who can't understand these two obvious truths are unfit to be Governor. The consequences of default would place Rhode Island as one of the lowest state bond ratings in the nation, and the industry would reduce Rhode Island to 'junk bond' status. We have been told in no uncertain terms that the reaction to not paying our debt obligations will be severe and have an adverse impact on Rhode Island. In addition, failure to honor our obligations could have harmful effects on the pending lawsuit.

The push by Allan Fung and Ken Block to default is disheartening. We hear from them populist rhetoric that lacks any empirical research or credible support. Common sense dictates that you pay your debts however distasteful.

From the beginning, I have been the most vocal and strongest opponent of the 38 Studios deal. In the summer of 2010, I was denied access to a Rhode Island Economic Development Corporation (now called Commerce RI) meeting where I hoped to speak and state the case on behalf of Rhode Islanders on why this was a bad investment.
Earlier today, I wrote that the Republican candidates for governor have political motivation to not make the payment. Yesterday, Sam Howard wrote that it should be repaid regardless of how bitter the pill.
The state owes $12.5 million on the moral obligation bond to pay for the 38 Studios loan. Because it is a moral obligation bond there are no legal ramifications to default, though there are likely to be fiscal implications. The General Assembly could not include the money in its budget. So, in effect, the state legislature gets to decide the fate of the state's credit rating during its annual budget process this year.
Senate President Teresa Paiva Weed supports making payment on the bond and House Speaker Nick Mattiello has not yet committed.