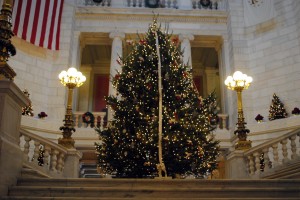 In an attempt to avoid the annual holiday season skirmish over what to call the dead tree in the State House veranda, Governor Lincoln Chafee said in a statement today he's willing to acquiesce and call it a Christmas tree.
Here's his statement:
In 2011, my first year celebrating December in the State House I gave a simple six word instruction to the planners of the annual tree lighting: "Do what they did last year."

Despite the myriad of pressing issues facing Rhode Island and the nation, this presumably happy event became a focal point for too much anger. Strangely lost in the brouhaha was any intellectual discussion of the liberties pioneered here in Rhode Island 350 years ago in our Charter. Because I do not think how we address the State House tree affects our "lively experiment," this year's invitation calls the tree a Christmas tree.

Secretary of State Mollis has offered to light the tree, and I have accepted his gracious offer. The tree lighting will be on Thursday (December 5, 2013) at 5:30 p.m. in the State House rotunda. Once again, our many thanks to all those who have worked hard to make our State House festive.
Good move, Governor! Had it come down to it, we would have again had your back … but we are more than happy to leave well enough alone and focus on more important issues … like taking the consumerism out of Christmas!
Chafee calls for truce in war on Christmas

,