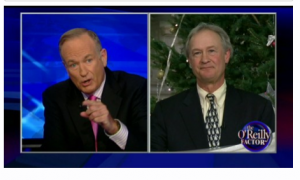 Earlier this week I criticized Gov Linc Chafee for not taking on John DePetro, whom we all knew was champing at the bit to spew his annual holiday hate about all things secular – most specifically the dead fir tree in the State House serving as a yuletide decoration.
Tonight Chafee did me one better, snubbing DePetro and instead going straight to the reigning national champion of Christmas bullying: Bill O'Reilly. And Chafee did great. He killed it, in fact.
You can watch for yourself and make your own conclusions, but here are some quick highlights:
You're going to lecture me now on traditions? Go ahead, tell me a story.

These controversies, you generate them here.

This is a public building, it's paid for by people of all religions.

Your show, Fox News, you guys are too angry. Listen to you?
But Chafee's best line of the night was when he surprised everyone with this sign off:
Merry Christmas
Meanwhile, DePetro will have to settle for his local partner in Catholic bullying Bishop Tobin.
Chafee Takes On O'Reilly, Defends Religious Freedom

,