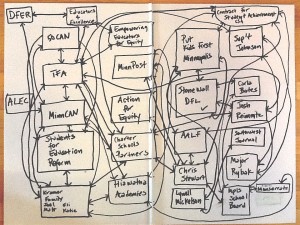 I'm opposed to corporate interests picking winners and losers in public education and that is exactly what happens when charter schools accept private sector grants for operating expenses.
Here's how the ProJo put it in an article about a $2 million grant the Charter School Growth Fund gave to the Blackstone Valley Prep Mayoral Academy. "The national philanthropists include the Walton Family Foundation, which progressives accuse of trying to "privatize" public education by supporting charter school networks."
It's more than that. Here's a list of the Charter School Growth Funds staff and Board of Directors, with a short description of what each person does when they aren't deciding which public school in Rhode Island gets $2 million and which don't.
Kevin Hall, president and CEO: Here's how the Charter School Growth Fund describes him: "Before joining CSGF, Hall served as the Chief Operating Officer of The Broad Foundation for several years where he led various aspects of the Foundation's grant investment strategy and work. Prior to Broad, he was a co-founder and ran business development for Chancellor Beacon Academies, a manager of charter and private schools across the U.S. Previously, Hall ran a division of infoUSA, and worked at McKinsey & Co., Goldman, Sachs & Co., and Teach For America."
James C. Rahn: He runs the Kern Family Foundation, which donates to education reform issues and religious leaders. According to its website Kern's goals for funding religious leaders include "Educate future and existing pastors about how the economy is a moral system in which people exchange their work, and that free enterprise grounded in moral character is the most effective way to promote dignity, lift people out of poverty, and produce human flourishing."
Greg Penner: Also worked for Goldman Sachs, before going to work for Wal-Mart, where he now serves on the Board of Directors.
Mason Hawkins: He's one of the richest mutual fund investors in America. Why? Maybe because he runs his mutual fund like it's a hedge fund.
Charter school grant: follow the money

,