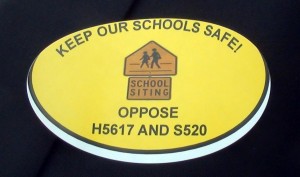 Last year the General Assembly unanimously passed the "Environmental Cleanup Objectives for Schools" sponsored by Senator Juan Pichardo and representative Scott Slater. The bill, which took over three years to pass, was signed into law by Governor Chafee on June 6, 2012, nearly a year ago. Commonly referred to as the "School Siting Law," this was an important and landmark piece of legislation that prohibits school construction on contaminated sites where there is ongoing potential for vapor intrusion.
This common sense piece of legislation, that keeps our children from attending schools where toxic gases can wreak havoc on their health, is doubly important because the bodies of children are still developing, and triply important in poorer communities where children already face greater levels of hazardous environmental poisons such as lead.
It's therefore even more baffling that this legislation is being challenged and potentially weakened by two new bills that have been introduced to the General assembly, House Bill 5617 and Senate Bill 520. These bills would allow construction of schools on vapor intrusion sites, completely gutting the intent of the original bill. This legislation is being introduced on behalf of the Rhode Island Mayoral Academies (RIMA),which wants to expand a charter school on potentially hazardous land.
RIMA wants to manage the contamination by leaving it in the ground, and then monitoring the vapor intrusion with sophisticated and largely untested technologies that they hope will protect children, teachers and staff from unhealthy levels of exposure to toxins. The technology and monitoring will be an additional expense that the school will have to manage, money that will not go towards education.
A press conference was held on the RI State House steps yesterday  by Clean Water Action, the Childhood Lead Action Project and the Environmental Justice League of RI that featured Lois Gibbs, renowned toxics activist from Love Canal who famously helped kickstart the United States Superfund Program. Gibbs pointed out that the legislation RIMA wishes to undermine has become model legislation for similar laws across the country, from New York and Massachusetts to Michigan.
"The very thing that they are talking about changing in this bill is what happened at Love Canal," said Gibbs. "It was vapor intrusion! So why would this group of people want to put Love Canal under the school of innocent children is beyond me."
This would be a great question to pose to Senator Juan Pichardo, who helped shepherd the bill through the Senate last session and has now introduced the legislation to destroy it. Why Pichardo would stand up for students one year and then seek to allow RIMA the right to ignore sensible safety protocols and endanger our student's health might be another reason to take a long look at corporately funded charter schools and the ways in which corporate money warps government.
Pichardo's email is sen-pichardo@rilin.state.ri.us and his official phone number is (401) 461-2389 if you think this is an issue important enough to let him know how you feel.
Why would we want to undo such awesome legislation? Watch Lois Gibbs explain:
Charter school: site students on toxic waste

,