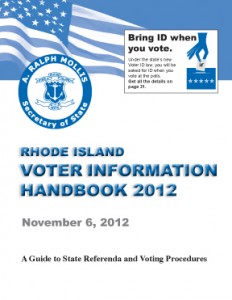 Be on the look-out for the election guides that will hit your mailbox this week.
The 32-page Voter Information Handbook includes descriptions of every statewide ballot question and bond issue as well as information about the state's new Voter ID law, special accommodations for voters who are elderly, disabled or visually impaired and polling place changes.
State law requires the us to publish and mail the handbook to every residential household in Rhode Island prior to every general election. The mailing is timed to beat the Oct. 7 deadline to register or re-register if you have moved or changed your name since the last time you voted as required by state law.
November's ballot will include races for the U.S. Senate and the U.S. House of Representatives as well as many General Assembly seats and local offices. In addition, there will be two questions that would amend the state constitution to allow an expansion of gaming at Twin River and Newport Grand and five bond issues authorizing the sale of $209 million in bonds for uses including affordable housing, clean water, the environment, higher education and the construction of a new Veterans' Home and renovations to existing facilities.
Because many cities and towns have moved their polling places due to redistricting, the handbook also outlines how you can use our website to confirm the location of your polling place ahead of time.
Beginning this year, voters will also be asked to show an ID when they vote at the polls. Poll workers will accept a wide range of common photo IDs including a R.I. driver's license, RIPTA bus pass, U.S. passport, college ID and employee ID. The guide includes a complete list of IDs that will be accepted at the polls as well as a schedule of community outreach events where voters who do not already have a photo ID can get one for free.
Most importantly, no eligible voter will be denied the right to vote. Voters who do not bring an acceptable ID to the polls can vote using a standard Provisional Ballot. If the signature they give at their polling place matches the signature on their voter registration, their ballot will be counted.