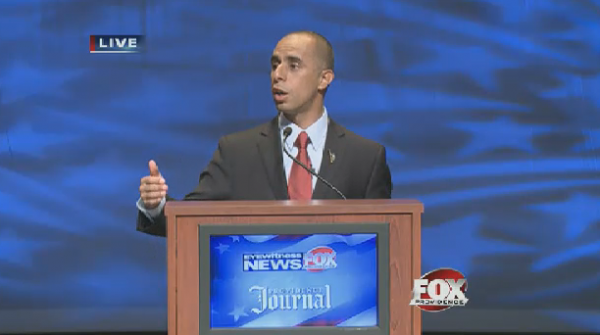 Buddy Cianci was the biggest presence on the stage, but that doesn't mean he won the WPRI/Providence Journal mayoral debate Tuesday night. Or picked up many undecided voters, which is probably the only definition of 'winning' that really matters.
Cianci stuttered at times, he misspoke – or perhaps lied? – often and raised the ire, at one point or another, of nearly everyone on the stage. He's never been one to care much for rules, and moderator Tim White had his work cut out for him in keeping him in line.
When talking about crime, Cianci suggested there were 15 shootings in 19 hours over the weekend. In fact there was 1 stabbing and 5 shootings. He claimed community policing thrived when he was mayor, but Ian Donnis of RIPR quickly tweeted a link to a 1999 Phoenix article of his that indicates it was "marginalized." When panelist Ted Nesi asked, "Do you agree your failure to fund the pension system" is part of Providence's fiscal problem, Cianci stammered his way through an answer.
He seemed like an old man, quite frankly, past his prime. But like Derek Jeter, Buddy Cianci has the potential to hit a walk off in his last home at bat.
Jorge Elorza, on the other hand, was more like a young Jeter: crisp and on message. He harped often on moving the city beyond Buddy. "Let's leave behind the corruption," he said. Mentioning incentives to help police officers live in the city and transforming school buildings into neighborhood community centers, he said, "I want Providence to be a city of opportunity."
Elorza certainly had fewer gaffs than Cianci, but he had fewer winners, too. When Elorza mentioned increasing exports from the waterfront, Cianci retorted, "What are you going to export, used cars?"
But if one-liners determined victory, then Republican Dan Harrop was the hands down winner. When asked if he would drop out, he spun one of the biggest unknowns of the election into a Republican talking point. "I could fall, break my hip and [the Republican chair] could appoint Bob Healey to run in my place"
Harrop also may have made the most progressive statement of the night when he said, "I think it is immoral that we are asking our children to enter these" school buildings.
Elorza said he wants "be remembered as the person who turned around these schools." But in order to do that, he's first going to have to be remembered as the one who beat Buddy Cianci.