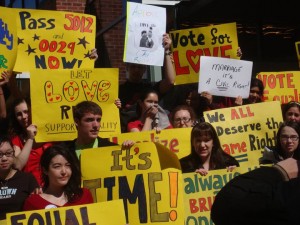 As we first reported last week, Sen. Frank Ciccone is pushing a bill that would weaken Gov. Chafee's executive affirmation that Rhode Island recognizes same sex marriages performed in other states.
The Democrat from Providence submitted on Thursday "a joint resolution of the House and Senate on Thursday rejecting the order's assertion," according to the Projo.
Marriage Equality Rhode Island responded to the filing with a press release saying:
"Gov. Chafee's executive order sent a powerful message that all Rhode Island families should be valued, respected and treated equally under the law. It's a sad day for our state when members of the Senate would introduce a resolution whose ultimate purpose is to strip Rhode Island citizens of their civil rights. Sen. Ciccone's position is indefensible, and we urge the members of the General Assembly to reject this outrageous assalut on equality, common sense and fundamental decency."
A bill that would legalize marriage equality has not yet been heard by a Senate committee yet this year, and its chances are looking increasingly grim with some hoping to be done with the session by June 1.
Chairman of the Judiciary Committee Sen. Michael McCaffrey does not support the bill, but I haven't yet asked him if it would at least have a hearing.
Ray Sullivan, of Marriage Equality Rhode Island said he hasn't heard if there will be a hearing.
We haven't been told officially or definitively whether or not we'll receive a hearing on our legislation," he said in an email. "That being said, we would not be surprised if the Senate did not schedule hearings."
Ciccone Bill Would Repeal Marriage Equality Order

,