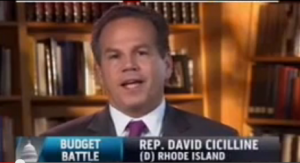 As I predicted on Tuesday, Congressman Cicilline
voted against the Progressive Caucus's budget
on Wednesday. For a vice chair of the Progressive Caucus, this is a major break—especially after Rhode Island progressives have made it very clear they do not want Cicilline to abandon House progressives.
This is a tough vote for Rhode Island progressives to swallow.  The progressive community threw our all into getting Cicilline reelected.  We are his base.  We chose not to attack him on previous votes where he has betrayed the progressive agenda because we thought it might damage him.  David Segal, a progressive who ran against Cicilline in 2010, opted not to run in 2012.  But he refuses to stand up for progressive values.
In a statement
posted to RI Future
in response to my post on Tuesday, Cicilline spokesman Rich Luchette argued that "it is absurd to suggest that David is anything other than %100 committed to protecting Medicare, Medicaid and Social Security benefits." Cicilline did sign a letter specifically opposing such cuts in a sequestration deal, but only in a sequestration deal.  However, the concern I raised was not that he would support such cuts in a sequestration deal but that he would support them in a grand bargain deal.  The letter Cicilline signed would not bar him from supporting those cuts in a grand bargain deal.  The letter he refused to sign would.
This is not a difficult issue.  If Cicilline believes his position has been misrepresented by his actions, all he has to do is sign the Grayson-Takano letter pledging never cut Social Security, Medicaid, or Medicare.  If he continues to refuse to sign it, his position will be clear.
Similarly, if Cicilline opposes sequestration, all he has to do is cosponsor the Cancel the Sequester Act.  The mainstream Democratic plan, which Cicilline supports, replaces sequestration with more acceptable austerity that has no chance of passage.  It cedes the ideological ground that we must be doing austerity in a jobs crisis, a battle Democrats will never win.  Had Democrats supported repealing the sequester, the debate would have been between Republicans who support the sequester and Democrats who oppose it.  Instead, it is between Democrats who want a Democratic version of the sequester and Republicans who want a Republican version of the sequester.
One doesn't have to be a very active observer of politics to know that Democrats and Republicans would not come together on a sequester plan even vaguely acceptable to liberals.  When Democrats refused to call for a repeal of the sequester, it ensured the sequester would happen.  If Cicilline persists in opposing repealing the sequester, his position will be clear:  He prioritizes deficit reduction over jobs.
On Tuesday, I predicted Cicilline would abandon the Progressive Caucus and oppose the Caucus's budget.  Yesterday, he proved me right.  This is about as clear a sign as you could imagine that Cicilline does not stand with progressives on economic issues.  If he had felt at all conflicted, he could have, like Jim Langevin, at least chosen not to vote one way or the other.  This vote indicates that he may soon be contemplating an exit from the Caucus.  Again, if he sees this concern as unwarranted, all he has to do is pledge he will never leave the Progressive Caucus.
Let us be clear, progressives are not going to vote against Cicilline in the general election.  We are not going to vote for a conservative primary challenger.  The question is whether we will continue to pour our limited resources into a candidate who does not stand up for our values—instead of state and local candidates who do.
This is not an idle concern.  During the 2012 election, for instance, members of the Progressive Democrats knocked on more than 3,000 doors for Cicilline in East Providence.  Had we instead been canvassing for Bob DaSilva (
who lost by less than 2%
), Bob DaSilva almost certainly would have won.
If Cicilline would like to see his base work for him instead of on General Assembly races, he has some explaining to do.  I encourage him to begin that process by defending his vote on RI Future.
In Budget Vote, Cicilline Betrays Progressives

,