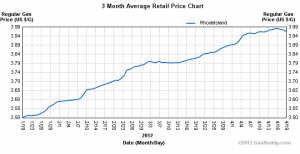 Congressman David Cicilline introduced a bill today that would curb rampant speculation in the oil markets, which would both drive down the price at the pump and put the petroleum economy back in line with the laws of supply and demand, he said.
"If you look at what has happened in the market, production is up and demand is down," Cicilline told me today. "So the market is not working right. And a substantial piece of this is excessive speculation. Wall Street is using oil futures as a gambling casino."
Though they've inched back down recently, oil prices have skyrocketed in 2012. The national average has climbed from $3.34 in mid-January to $3.87 today. In Rhode Island during that same time period, the average price of a gallon has gone from $3.50 to $3.97.
During the gas price spike in 2008, the exact same piece of legislation passed the House by an overwhelmingly bipartisan vote of 402-19.
The bill, which is co-sponsored by Congressman Maurice Hinchey (D-NY) and Congressman Raúl Grijalva (D-AZ) would compel the US Commodites and Futures Trading Commission, the entity that regulates such speculation to put new rules into place to negate the effects of speculation on the price at the pump.
Cicilline said the CFCT could set greater limits on how many future shares one entity could own at a time or set limits on how much of the oil market could be designate for futures trading.
"This is dangerously reminiscent of what we saw in the housing market when Wall Street was using very sophisticated tools to drive up prices," he said. "We're not powerless to respond to this crisis."
The futures market controls about 80 percent of all crude oil, said Gary Gensler, the Chairman of the CFTC, recently. Cicilline added that that percentage has doubled in the past decade and shortly before that futures trading controlled only about 20 percent of the market. Cicilline said Goldman Sachs is the biggest holder of crude oil futures.
President Obama called for further regulation on oil speculation earlier in the week. Sen. Bernie Sanders (I-VT) is sponsoring similar legislation in the Senate.
Speculation occurs when investors buy "futures" in a commodity such as oil. In effect they purchase a credit to buy a barrel (or many, as is often the case) at a price set now and collect the oil at a future date. If the price is higher than they bought the future share for, they make money. The problem occurs when many investors purchase future shares, artificially driving up the price beyond what it costs to extract, refine and deliver.