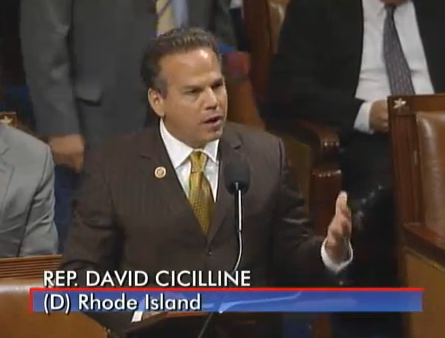 "Like many Rhode Islanders," Congressman David Cicilline said in an email to RI Future, "I'm saddened by the recent loss of life in Ferguson and New York City, and understand the frustration felt by so many Americans. We know that effective policing requires the trust and respect of the community and these events have undermined the confidence many people have in law enforcement's ability to treat everyone equally under the law. We have a responsibility to find a solution to this problem."
For decades, Cicilline has been working on a solution.
As a congressman, as mayor of Providence and as a lawyer in private practice, Cicillne has throughout his career been ahead of the curve on rooting out racial profiling.
"Racial profiling is wrong and creates more problems than it solves," he said in an email to RI Future. "When individuals are targeted because of their race, the most important crime-fighting tool police officers have, the trust of the community, is damaged."
Cicilline, D-RI, is one of 60 co-sponsors of Congressman John Conyers' 2013 End Racial Profiling Act. The bill is similar to the new federal rules announced Monday by the Justice Department with the very notable exception that an act of Congress would apply to state and local law enforcement agencies. The new Justice Department guidelines apply only to federal law enforcement officers.
"I welcome Attorney General Eric Holder's update of racial profiling guidance for federal law enforcement agencies," Cicilline told me. "This is a step in the right direction, but we must go further and end racial profiling wherever it may occur. The End Racial Profiling Act will address the root cause of racial profiling, protect individuals' civil liberties and educate law enforcement on the differences between a suspect description and discriminatory profiling."
The bill, according to this summary, defines racial profiling as: "the practice of a law enforcement agent or agency relying, to any degree, on race, ethnicity, national origin, gender, or religion in selecting which individual to subject to routine or spontaneous investigatory activities, or in deciding upon the scope and substance of law enforcement activity following the initial investigatory activity, except when there is trustworthy information relevant to the locality and timeframe that links a person of a particular race, ethnicity, national origin, gender, or religion to an identified criminal incident or scheme."
It would require police departments to develop policies aimed at eliminating racial profiling and would create federal guidelines for collecting data.
As mayor of Providence, Cicilline put together "a plan for tackling racial profiling, a practice that the city's police have been charged with engaging in," according to Rhode Island Lawyer's Weekly.
The plan was critiqued by the ACLU but won praise by the Police Assessment Resource Center. The group said the action plan contained "several recommendations, such as more police/community interaction, data collection and analysis, and mandatory diversity training for officers every two years. Under the plan, officers found to have engaged in racial profiling would be required to attend counseling and training sessions, and could face reprimands or dismissal."
Cicilline campaigned for mayor, in part, on reforming the police department. He won some praise from the late Providence Phoenix, and even Steve Brown of the ACLU. Wrote Wrote Ian Donnis in 2003:
"It will take time to change public perceptions, particularly in the poorer Providence neighborhoods where police-community relations are most in need of improvement, but many observers are optimistic about the outlook. As put by Steve Brown, executive director of the Rhode Island chapter of the American Civil Liberties Union, 'Things can only go up. I think that's a fair statement and I have no reason to doubt that they will. The mayor has certainly demonstrated in his other roles a strong concern about this issue. I would be very surprised if we didn't see some significant changes in police-community relations.'"
One of the ways Cicilline demonstrated his commitment to police-community relations was as the initial lawyer in the Bernie Flowers case. Flowers was a 50-year-old African American who in September of 2000 was pulled over at gunpoint by the Westerly police. He sued the Westerly police department for violating his civil rights.
"This lawsuit is intended to hold accountable the police who violated Mr. Flowers' civil rights and to discourage others from engaging in this kind of racial profiling, which continues to be one of America's greatest shames," Cicilline said in an ACLU press release from 2001.
Flowers got a new lawyer when Cicilline became mayor and a federal judge dismissed the lawsuit in 2004.
Cicilline fought racial profiling as congressman, mayor and lawyer

,