Congressmen David Cicilline and Jim Langevin both supported an amendment to the House military spending bill that would stopped the United States from transferring Textron-made cluster bombs to Saudi Arabia.
It was narrowly defeated by 12 votes, 204 to 216. Neither of Rhode Island's congressman could be immediately reached for comment. But Congressman Hank Johnson posted a news release about the bill and his speech before the House Armed Service Committee (Congressman Cicilline can be seen in the background).
"Earlier this year, the Saudi led-coalition dropped cluster bombs in Yemen's that struck a rehabilitation center for the blind – which also has a school for blind children," Johnson said. "The destruction of the school and the injuries sustained by the children were unbearably gruesome. This deliberate and reckless use of cluster munitions by Saudi Arabia highlights their complete disregard for the welfare of innocent people. This is unacceptable. We cannot ignore our duty to protect basic human rights values here and around the world. There is something fundamentally wrong with preaching human and civil rights here at home while we export death abroad. Rather, Congress must step up our efforts to keep such internationally reviled weapons out of the hands of those that would misuse them."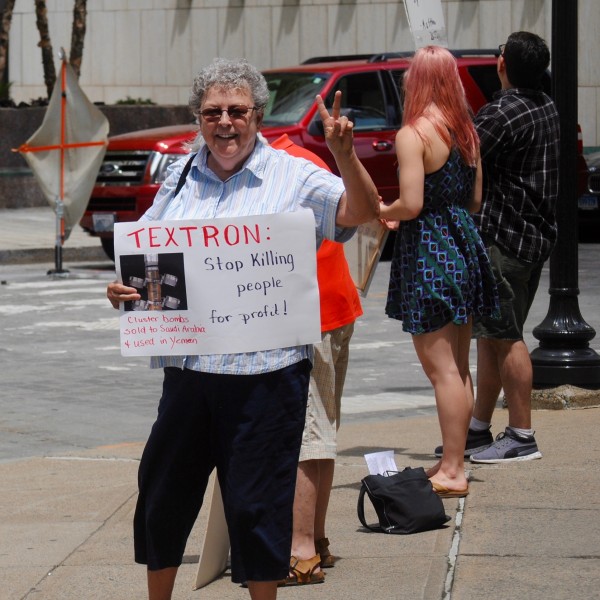 If passed, the bill would have further limited Rhode Island-based Textron's market for cluster bombs. Located in downtown Providence, Textron, a defense industry conglomerate, is the last North American manufacturer of cluster bombs, which have been banned by 119 nations but not but the United States and Saudi Arabia. The US is known to have sold Saudi Arabia Textron-made cluster bombs and Human Rights Watch, Amnesty International as well as local peace activists have called upon Textron to stop making cluster bombs.
"It's an important program for us," Textron spokesman David Sylvestre told RI Future in February. He could not immediately be reached for comment today.
Human Rights Watch in a post published today mentioned the grassroots effort in Rhode Island to convince Textron to stop making cluster bombs.
"Public pressure seems to be mounting against Textron," wrote Mary Wareham, advocacy director for Human Rights Watch. "Outside Textron's headquarters in Providence, Rhode Island, local activists have been demonstrating for weeks – demanding that the company cease its production of cluster munitions."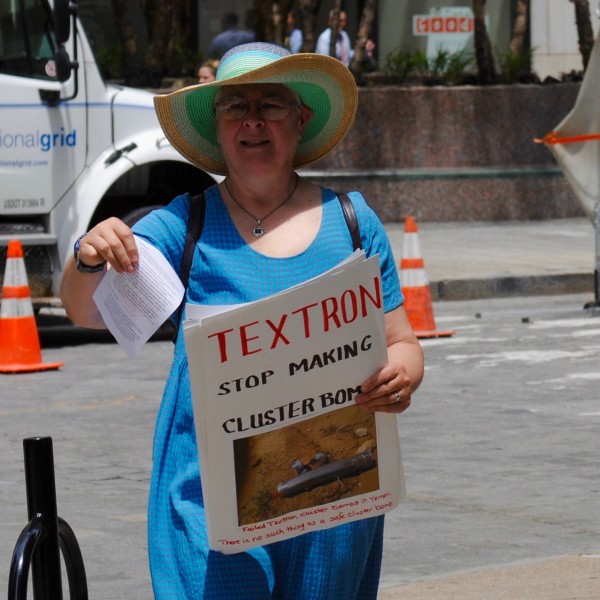 The FANG Collective and the American Friends Service Committee have led efforts to call public attention to Textron cluster bombs. Members of the groups and other peace activists participated in another protest outside Textron headquarters in downtown Providence today.
Singapore recently stopped making cluster bombs and Wareham wrote, "Textron should follow the example set by Singapore Technologies Engineering and commit to stop making these indiscriminate weapons as a way to assure the public that it is responsive to global concern at civilian suffering."
Read RI Future's full coverage of Textron's cluster bombs here: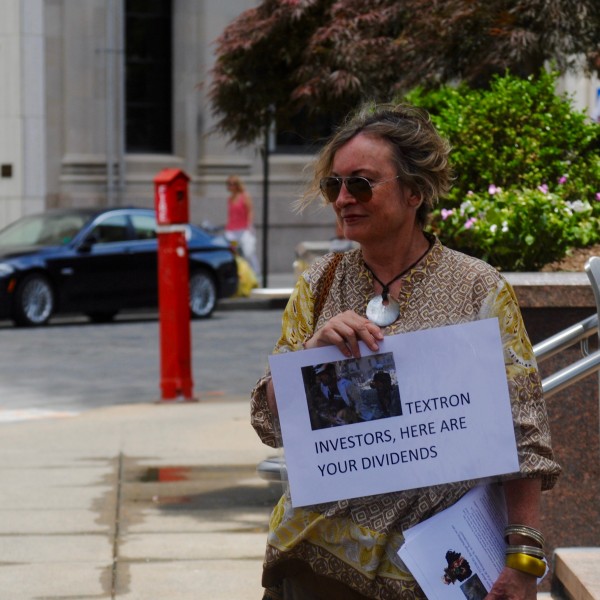 Cicilline, Langevin support bill to stop Textron-to-Saudi Arabia cluster bomb sales

,