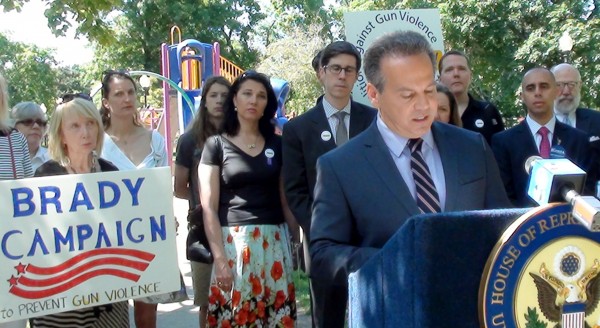 Congressman David Cicilline held a press conference this morning in Lippitt Park in Providence ahead of National ASK Day (June 21), a day organized nationally by the Brady Center to Prevent Gun Violence and supported locally by the Rhode Island Coalition Agains Gun Violence (RICAGV).
"ASK (Asking Saves Kids) aims to reduce unintentional firearm deaths and injury to children by encouraging parents to ASK, "Is there an unlocked gun in your house?" just as they would other health & safety questions, before their child visits another home. The ASK Campaign was created by the Brady Center to Prevent Gun Violence in collaboration with the American Academy of Pediatrics. National ASK Day takes place every year on the first day of summer, as summer is a time when children are increasingly likely to be playing in other homes. ASK Day is on June 21st."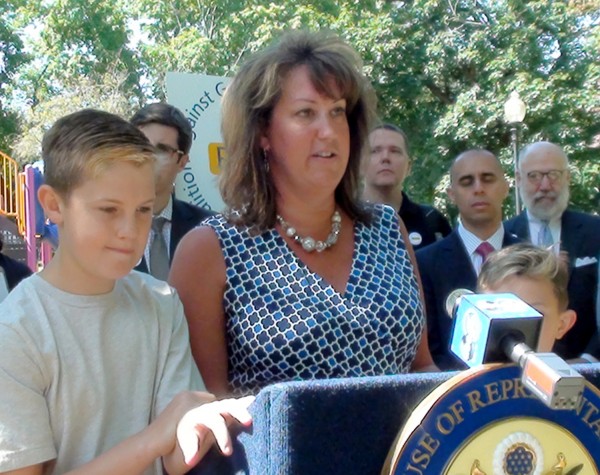 Moving and emotional testimony was given by Karen Reed, a mother who, two years ago, nearly lost her five year old son to a terrible gun accident when her nine year old son found an unsecured pellet gun on Christmas Eve, and shot his brother in the eye, nearly killing him. Not only was one son grievously injured, but the other was forced to deal with the trauma and guilt of having accidentally caused so much harm. Yet who can blame a nine year old boy for such an accident? Isn't it the responsibility of adults to secure weapons in the household?
Full press conference: