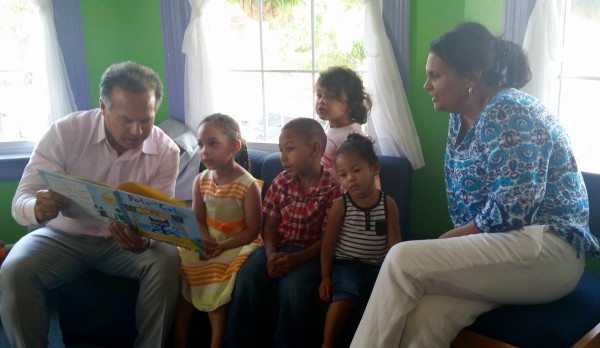 Congressman David Cicilline met Wednesday with local child care workers to discuss the need for high quality care that pays a living wage.
"It's time for Congress to take action to ensure that high quality, affordable child care is accessible for every American family," said Cicilline. "And that the childcare workforce can access the training and wages they need to make a living."
Cicilline joined a forum of 11 child care workers, state representatives, and local parents to discuss House Resolution 386, which recognizes the need for better child care for the working parents.
Among possible solutions identified by the participants on Wednesday, raising the minimum wage to $15 per hour for child care workers was the most popular.
"They want us to better ourselves, but we need help," said Nichole Ward, a certified nursing assistant and mother of two. Ward spoke of the difficulties finding care for her two children while working and going to school at the same time.
Ultimately she had to ask her family to watch her children as childcare proved too expensive, a common solution for working families. Ward explained that her children had "fallen behind." in their educations. Her mother and sister "aren't teachers," unlike the child care providers, and cannot provide the vital early childhood development.
"Between 2007 and 2015, funding for Rhode Island's subsidized child care program shrank by 30 percent (from $71 million to $51 million)," said Rachel Flum, senior policy analyst at the Economic Progress Institute. "The reduction was primarily in state support for the program which was accomplished by reducing eligibility – causing hundreds of families to lose coverage."
Cicilline cited a University of California, Berkeley study that found child care workers are paid less than $10 an hour and wages have stagnated with no real increase since 1997 while at the same time child care costs have doubled.
"Pay the workers like their work matters," said Marti Murphy with Fight for 15, an advocacy group currently celebrating victories big and small across the nation.
Cicilline expanded that childcare is becoming the "biggest number, bigger than rent, bigger than food."
"Things are different now than 25-years-ago," he said, talking about the need for Congressional action. "We can't pretend it's 1950…and recognize the reality that both parents are working."
Added Chas Walker of 1199 SEIU New England, "From 1-5-years-old are the most important years in a child's life. We have to value the people providing the care for them."
Cicilline stands with child care providers

,