This is exactly why Rhode Island reelected Congressman David Cicilline: so we would have someone who would stand up to Paul Ryan.
From The Hill today about his bizarrely inappropriate budget proposal:  "Ryan this year made a concession to conservatives and moved up the date when his budget balances." Paul Ryan making a concession to conservatives is like saying the Sex Pistols made a concession to punk music – it's hard to tell what's the dog and what's the tail and which is wagging which!
"With all due respect Mr. Chairman, that question was asked by Mr. Van Hollen and there actually is no substitute in this document," Cicilline retorted to a Ryan non-answer. (Ed. note: The phrase "with all due respect" is not a way to convey respect for someone!)
Cicilline should get a couple pats on the back in the House Lounge for this one: "My question is a factual one," he said. No one on Ryan's leadership team seemed to know how to field such a question.
Enjoy…
This misidentified footer was only up for a moment, but it's a scary thought: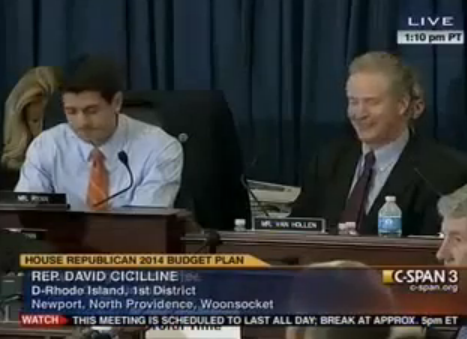 Cicilline To Paul Ryan: 'My Question Is A *Factual* One'

,