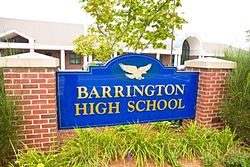 Barrington will likely not move forward with its controversial idea to let a limited number of students from outside the community pay tuition to attend its high-achieving local public schools, said Barrington School Committee President Patrick Guida, who is also a member of the state Board of Regents.
"There's a good chance we won't move forward with this," he said, noting that he does not speak for the committee, which has a meeting tonight at 7:30. "I don't know if we'll vote, we often do things by consensus."
The school committee was considering offering about 10 out-of-district students the opportunity to pay tuition of $12,800 to attend Barrington schools. The average cost per pupil in Barrington is $12,800.
The program raised concerns because it was potentially discriminatory to students with special needs. At first, Barrington didn't account for special needs students because they cost more to educate and the committee wanted to profit, not lose money, on the idea. Then, it considered offering slots for special needs students who could pay the cost of their education, which can often be more expensive than the average students because they may require either special services or individual attention in some cases.
Guida said the committee's own legal research as well as a second letter from Steve Brown of the RI ACLU that questioned the legality of that idea, too.
"Under the circumstances, there is no lawful basis for proceeding with an out-of-town tuition program that would treat students with disabilities differently from other applying students," said Brown's letter to Barrington. "We therefore strongly urge the school district to abandon any efforts to charge disparate tuition rates based on special education status."
RI Future was the first media organization to raise questions about the legality of the tuition idea.
Citing Legality, Town Might Scrap Tuition Plan

,