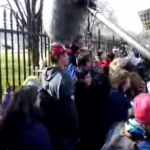 There will be civil disobedience at the White House today as a part of the build up to the rally this Sunday Feb 17th. This is to remind President Obama that the Keystone XL Pipeline action will show if he is serious about Climate disruption Action.
The Sierra Club has lifted its 115-year ban on civil disobedience for the action as the list of people risking arrest shows just how wide this movement is- reverends, ranchers, NAACP members, Bill McKibben, Michael Brune and Daryl Hannah.
You can watch it live here:
Here are some of the participants and their stories.
Abbi Kleinschmidt – farmer from a long line of farmers and ranchers, whose home would be crossed by the Keystone XL pipeline in Nebraska.
"I am fighting the pipeline because I believe it is my duty to stand up for Mother Earth and the health and well-being of all human beings and NOT allow a slimy, rich, foreign oil company to come in and cut through the heart of America. I cannot think of a more heartless act!! I am fortunate to live in a society where I have the right and can speak up for what I believe in. What this situation reminds of more than anything is what our ancestors did to the Native Americans. We came in and told them lies, cheated them, and moved them off of their land. I believe that TransCanada is capable of doing the same sort of thing, especially if there was a sizable tar sands spill. That company is ruthless, relentless, has an endless supply of money and only wants what is good for them. Since our politicians aren't willing to take the appropriate stand, then power to the people and I would be one of those."
Adam Werbach  – Co-founder of the sharing startup yerdle.com.  A lifelong environmental activist, Werbach founded the Sierra Student Coalition and was later elected president of the Sierra Club at age 23
"We've known all we need to know for decades now. Having spent the majority of my life trying to do something about climate change, I feel like a miserable failure. All of those nights away from my kids, all of those boisterous arguments about text in Kyoto, all of the grand coalitions we built, all of the clever message testing, and yet we're nowhere near where we need to be. I remember meeting Al Gore in 1986 when I was 13 years old;  he spent a warm Spring afternoon explaining climate change and scaring the living daylights out of me. In 1989 I met Bill McKibben in Vermont at the Mountain School after reading the End of Nature, and I can vividly remember him looking hopefully upon my classmates as if to say, "I'm just a writer, you guys should go do something about this."  So here I am.  I've never been arrested before, even when I served on the international board of Greenpeace. I thought I could achieve more with my voice and my pen. But no longer. I'm humbled to be asked to put my body on the line. I want my kids to know that I did everything in my power to protect them. I only pray our call will be heard."
Allison Chin  – President of the Sierra Club Board of Directors
"If not now, when?  I'm here to help create the space for President Obama to exercise bold leadership on climate, because I agree with him that, in his own words, "failure to do so would betray our children and future generations."
Andre Carothers  – Chairman of the Board, Rainforest Action Network
"22 years ago I walked onto the Nevada nuclear test site, and I am honored to return to action now to call on President Obama to take action on the most pressing issue of our time. It is urgent that he take leadership on an issue that does not allow for half measures."
Julian Bond – Co-founder, Student Nonviolent Coordinating Committee, Former Executive Director of NAACP.
Betsy Taylor – President of Breakthrough Strategies & Solutions, chair of the 350 Action Fund and founder and former President of 1 Sky.
"What's best for the oil companies is not what's best for the American people.  We can't ignore the reality of destructive weather and we owe it to our kids to protect them.  That means addressing climate disruption before it becomes irreversible.  Fossil fuel companies have a stranglehold on Washington.  Our political system is not responding to the overwhelming evidence of dangerous climate change.  I'm risking arrest because I feel a moral obligation to children and to those just being born. We must disrupt business as usual.  Those who say nothing can be done about climate change forget who we are and what we can do.   But we're running out of time and we must tap our ingenuity and resolve to turn things around before it is too late."
Bill McKibben – Author, activist, and co-founder of 350.org
"It is a great privilege to watch the Sierra Club break its century-old ban on civil disobedience–they'd clearly decided that KXL was an issue of such magnitude that we needed to change the way we do business. I hope the president will take a lesson from that. I'm very glad to see leaders and celebrities standing up to Keystone, but I don't forget for a moment that it was 1,253 ordinary Americans going to jail who built this momentum in the first place. And it's the tens of thousands who descend on DC this weekend who will push this to the next stage. We really shouldn't have to be put in handcuffs to stop KXL–our nation's leading climate scientists have told us it's dangerous folly, and all the recent Nobel Peace laureates have urged us to set a different kind of example for the world, so the choice should be obvious. But given the amount of money on the other side, we've had to spend our bodies, and we'll probably have to spend them again."
Bob Haas – professor of poetry and poetics at the University of California, Berkeley, and former poet laureate of the United States
Bobby Kennedy – Senior Attorney for the Natural Resources Defense Council, Chief Prosecuting Attorney for the Hudson Riverkeeper and President of Waterkeeper Alliance.
Brenda Hillman – Olivia C. Filippi Professor of Poetry, St. Mary's College in California
"I am joining other activists on Feb 13 out of concern as an educator, as a poet, as a mother and grandmother; I am convinced that the Keystone XL Pipeline represents a dire threat to the future of the planet and to many species in the path of it. We want to urge the President in the strongest possible terms not to approve the Pipeline and to develop energy alternatives that will be safer and will last longer."
Cherri Foytlin – mother of six and the wife of an oil worker in Rayne, Louisiana. She co-founded Gulf Change, blogs for Bridge The Gulf Project, and walked to D.C. from New Orleans (1,243 miles) to call for action to stop the BP oil disaster.
"With scientists firmly establishing the horrendous effects this pipeline will have on climate change, we must ask the question: Who pays the price? The astounding consequences of weather related disasters, industrial air emissions and possible pollution from leaks will undoubtedly fall to low income and minority communities who already bear the crux of the burden of energy production in this country, and in countries around the globe. We have seen that these encumbrances have profound impact on the health, agriculture and economic struggles of these communities – in spite of their disproportionately smaller contributions to the problem. We must move rapidly and reponsibly toward a transformation in this country; toward a place in time where the societal decision has been made that we will not a sacrifice human lives to the procurement of cheap energy and corporate profit. This fight is no less than the moral struggle of our time."
Pete Nichols – National Director of Waterkeeper Alliance
Danny Kennedy – President and Co-founder, Sungevity
Daryl Hannah – Actress and activist
"With global super storms floods and drought we are living the disastrous consequences of our actions. The good news is – we have everything at our disposal to turn things around, if we only have the will.  The Keystone XL pipeline, the tar sands strip mine it emanates from and all other forms of extreme extraction we have been increasingly resorting to are a death sentence. now is the time for n energy common sense and justice."
Eileen Flanagan – Quaker leader representing the Earth Quaker Action Team, which advocates for a just and sustainable economy through nonviolent direct action.
"As I explained to my two children, I'm willing to risk arrest for the first time in my life for them and for the future of all children—from Appalachia to Africa. The urgency of climate change hit home last August when I visited friends in southern Africa and heard meteorologists and farmers talk about how food production has been devastated by new and unpredictable weather patterns. I came home convinced that the most important thing I could do as a citizen of the United States was to stop extreme extraction here. My organization, the Earth Quaker Action Team, is campaigning to get PNC Bank to stop funding mountaintop removal coal mining, and we are proud to stand with allies fighting the Keystone XL pipeline, which is another example of the reckless resource grab that threatens all of us."
Ellie Cohen – President and CEO of PRBO Conservation Science, guiding PRBO's 140 scientists to develop climate-smart solutions working hand-in-hand with public and private resource managers, on land and at sea, from California to Antarctica.
"I am here to help ensure that my kids have hope for a healthy future.  I believe we have already passed several climate tipping points globally and are on the path to runaway greenhouse gases that in just 100 year would turn our oceans purple and our atmosphere yellow– making our earth no longer blue from afar.  I deeply believe we can avert climate chaos and we can ensure a healthy, blue planet for all life as we know it but we have to act now, making climate smart actions a part of every sector of society every day."
Erich Pica – President, Friends of the Earth
"We've seen too much inaction on climate change from President Obama and the U.S. Congress. Today I risk arrest with citizens across the country to demonstrate to President Obama that we expect unwavering leadership and that we will not idly accept climate inaction."
Farhad Ebrahimi – founder and trustee chair of the Chorus Foundation, whose mission is to end the extraction, export, and use of fossil fuels in the United States.
"I'm willing to risk arrest because I don't think any social movement has ever succeeded without the engagement of large numbers of people in a full range of tactics — including but not limited to civil disobedience. Thoreau put it better than I ever could: "It costs me less in every sense to incur the penalty of disobedience to the State than it would to obey."
James Hansen – Professor, Department of Earth and Environmental Sciences at Columbia University
Jacklyn Gil – junior at Brandeis university studying Peace & Justice studies.  As the daughter of Colombian immigrants and from a family of laborers, issues of economic justice and health equity are close to her heart and have become both academic and personal passions.
"I am happy to risk arrest because elected officials,succumbing to the lobbying demands of the fossil fuel industry, have repeatedly failed to take necessary climate action to ensure that the planet will be a habitable, safe home for my generation and for the ones to come. Rising food prices and increasing adverse health conditions are irrefutable evidence that sufferable climate crisis has already begun and today, I risk arrest as an urgent plea to the youth of the world to take action now in support of a more just, global coexistence – starting with standing firmly against the Keystone XL pipeline."
Jennifer Krill – Executive Director, Earthworks
"I am going to be there to tell President Obama that we can't frack our way out of a climate crisis. The story of our dependence on fossil fuels needs a new ending, and that requires a new path away from dirty energy and towards renewables like solar and wind power."
Jerry Hightower – Texas landowner, fighting a land grab by TransCanada for the southern leg of the Keystone XL pipeline
"I am a Texas born American who loves my state and my country. For the last several months I have had to stand by and watch a land grab occur by a foreign company (Trans Canada) through my entire state and family's front yard. This is all after President Obama was on the national news stating that he had stopped the pipeline. I want this path of destruction to end."
Jessica Roff – anti-fracking and climate justice and food justice activist from New York City. She has been a full-time core Occupy Sandy organizer in the Rockaways since the Thursday after the storm.
"Superstorm Sandy literally brought climate change into the homes of thousands of people; I work in the devastation every day. The time is now to take decisive action against climate change if we want to protect our future."
Jim Tarnick – Nebraska farmer, rancher, whose home would be just 50 feet from the Keystone XL pipeline
"I started out fighting the pipeline because it was coming on my land and close to the family farm house and livestock wells.  However, through what I have learned these past 6-7 months I am against it even more because it will impact us negatively economically in the long run and there are way to many ways it can harm our environment.  Landowners have been bullied by TC as our political leaders have looked the other way.  It is time to and this is an outstanding way to rise up against big money and say 'We aren't going anywhere. Ever!'"
Joe Uehlein – Founding President and Executive Director of the Labor Network for Sustainability, former secretary-treasurer of the AFL-CIO's Industrial Union Department and former director of the AFL-CIO Center for Strategic Campaigns
"Sometimes a decision forces you to think deeply about what you believe in and how you act on those beliefs.   I believe we face an existential challenge that holds great opportunity to build a better world.  Climate change will either consume us, or we will reverse global warming and build a sustainable future for the planet and its people.  We must fight for a Just Transition strategy and for jobs that will truly "pave the way for better days" rather than destroying the future.  We can't let climate protection make victims of workers who happen through no fault of their own to be in the way of changes that are necessary to protect the climate.  The time to begin drastic reductions in carbon emissions is past — we haven't a moment to waste.  So, if not now, when?  If not this issue, what issue?  I am marching for the labor movement and its future, and for my daughter."
Juliet Schor – Professor of Sociology at Boston College, winner of the 2011 Herman Daly Award from the US Society for Ecological Economics, and author, most recently of True Wealth: how and why millions of Americans are creating a time-rich, ecologically-light, small-scale, high-satisfaction economy.
"I am willing to risk arrest because decades of scientific evidence, argument and information have failed to move US elites to protect the planet and the future of humanity. It is clear that we need to take on the fossil-fuel industry, which is acting in a stunningly dangerous and amoral way. History shows us that major social change often requires civil disobedience. I consider this a generational obligation."
Luis Garden Acosta – American pioneer for community driven, human rights activism. He is the Founder and President of El Puente, a nationally celebrated, Brooklyn based, community/youth development organization.
"Climate Change is the moral issue of the 21st Century. Latinos know the consequences of those who choose profit over principle-toxic neighborhoods and  a devastated Caribbean. It will only stop when we all cry, Basta Ya!"
Maura Cowley – Executive Director, Energy Action Coalition
"At his Inaugural address, the President committed to prioritizing action on climate in his second term. This is the first time in our nation's history that we have heard such a loud and clear direction set by a President on climate change. The window to act on climate has opened, so now we must act fast to ensure that the President is pushed to make the commitment he made to all of us, and to future generations, as big and bold as possible. Because as he said, it's our job to push him."
Michael Kieschnick – CEO, president and co-founder of CREDO/Working Assets, a company dedicated to changing the world through progressive philanthropy and political activism
"I am returning to Washington committed to civil disobedience in opposition to the Keystone XL pipeline, representing the hundreds of thousands of CREDO activists who have marched, rallied, been arrested, called the White House, and petitioned President Obama to simply deny the required permit due to the horrific global warming consequences of saying yes.  As a business leader, I also want to call attention to the fact that strictly from a business point of view, no other possible energy investment could provide fewer jobs or less benefit to the U.S. that this pipeline, which will provide very few permanent jobs and serve only to transport dirty oil through the U.S. to export overseas."
Mike Brune – Executive Director, The Sierra Club
Mike Tidwell – founder and director of the Chesapeake Climate Action Network, as well as an author, filmmaker, and regular commentator on global warming issues for D.C.'s premiere NPR station, WAMU
"Why am I getting locked up on February 13th?: I'm doing this for my 15-year-old son, Sasha, the best curveball-throwing, skateboard-riding, drum-playing, and full-hearted person I've ever known. I can't bear how innocent he is. Sasha: I'm on it"
Pamela Smith-  co-founder and managing member of Regeneration, LLC, which serves as a catalyst for economically sustainable and healthy urban communities by helping public agencies, faith and community-based organizations and businesses build capacity through effective operations and winning partnerships.
"I am joining in this action because I hope to bring light to a critical issue.  An issue that without a concerted effort by those of diverse backgrounds and without our country's most urgent and immediate attention will continue to put our most vulnerable populations, communities of color and our children, at tremendous risk of environmental health disparities."
Phaedra Ellis-Lamkins – American sustainability advocate and the CEO of the anti-poverty organization Green For All.
"I'd rather risk going to jail than risk the health and safety of people who would be in harm's way if the Keystone XL pipeline was built. There are certain points in history, like the Civil Rights Movement, when the consequences of inaction are so great that we must make bold choices. Green For All is standing up to this pipeline because of its devastating consequences to human health, especially for communities of color, who are on the front lines of climate change, and who would be left with toxic air and water as a result of this project."
Phil Radford – Executive Director, Greenpeace USA
"I am risking arrest because the risk to my family's future if President Obama doesn't act is so great that I must act in every way I can to change the path we are on."
Randy Johnson – cattle buyer, and leader in the campaign in Nebraska to stop the Keystone XL pipeline.
"I am a Nebraska cattleman and landowner. I am fighting against the KXL pipeline for two very basic reasons. First of all, I feel very strongly that this pipeline represents an assault on the individual property rights of American citizens. There is something inherently wrong about the idea of American landowners being forced to subsidize the private enterprise of a foreign corporation with land that their families have earned through generations of hard work and determination. Secondly, I feel that the KXL presents a real threat to some of our nation's most valuable natural resources, especially our rivers, streams and underground aquifers. These are priceless American assets that no amount of oil money, foreign or otherwise, could ever replace."
Rev. Jim Antal –  Minister and President of the Massachusetts Conference of the United Church of Christ, lifelong environmentalist and organizer and activist to stop climate change.
"Ash Wednesday 2013 is a good day to be arrested as an advocate for God's creation.  For Christians, Ash Wednesday is a day of conscience and conviction, when we take stock of our lives and our life-together on the planet, and we confess our self-indulgent appetites, our intemperate love of worldly goods and comforts, and our obsession with consumption of every kind.   On Ash Wednesday, we acknowledge that we are accountable to the God who gave us life and who entrusted the earth to our care.  Ash Wednesday — a good day to be arrested – a good day to realign our lives with God's desire to preserve this good creation."
Reverend Lennox Yearwood – President of the Hip Hop Caucus, and leader in the anti-war, environmental and social justice movements.
"This is a courageous moment for our movement, which in turn demands courage from for our President. I believe President Obama is a courageous leader who will make the right decision by rejecting the permit for the Keystone XL pipeline project, and when he does, the people who elected him for a second term – the young, the old, the working class, the middle class, the beautiful Black, Brown, Asian, White, and American Indian people of this country – will have his back."
Rick Bass – a former petroleum geologist and wildlife biologist, is the author of 30 books of fiction and nonfiction, including, most recently, In My Home There is No More Sorrow: Ten Days in Rwanda, and A Thousand Deer
Steve Kretzmann – Founder and Executive Director, Oil Change International
"I'm risking arrest because stopping the pipeline is not simply a policy choice – it is a moral choice.  What our generation and this Administration does now will impact the lives of billions who are threatened today and for many tomorrows by climate change.  Business as usual is not an option – we must act with all the strength that nonviolent action can create."
Susan Luebbe – Nebraska rancher, currently in litigation with the State of Nebraska to defend the state's waterways and resources from reckless pipeline development
"As a 3rd generation cowgirl from the Sand Hills of Nebraska I have worked hard with others to get KXL off our ranch. I want to take this risk of arrest with many other landowners, and indigenous tribal members from Canada through the United States to end this fight. I want to make an impact in this fight for residents of Canada's tar sands region to Eleanor Fairchild's Texas property. TransCanada's project cuts right through the heart of environmentally sensitive land and cultural history. I want the future generation to see what it takes to fight for something so precious that our ancestors worked so hard to build for all of us."
Maria Gunnoe – Boone Co WV Organizer with OVEC – Organized Voices Empowering Communities. 2009 Goldman Prize winner, 2012 Wallenberg Medal recipient.
"President Obama must end mountaintop removal coal mining. Coal kills from the cradle to the grave. It's a climate catastrophe and a personal one. We in Appalachia know first hand what it means when the coal industry moves in and takes over your community. Energy companies and government agencies root and pollute the land, air and water that sustains all our lives with energy as their excuse. This simply is NOT an acceptable plan for our children's future. We deserve a healthy energy plan. One that ENDs mountaintop removal coal mining and its deadly impacts on Appalachian people. No one should have to die for electricity in America."