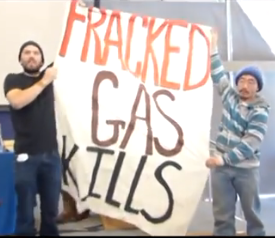 Often called a "climate champion" by his defenders, Rhode Island's Democratic Senator Sheldon Whitehouse faced criticism in New Haven, Connecticut on Saturday for his strong support of fracked methane gas.
During Whitehouse's keynote address at Yale University's "New Directions in Environmental Law" conference, members of the Connecticut-based climate justice collective Capitalism vs. the Climate interrupted Whitehouse with an action they called a "laugh riot."
Each time the Senator suggested he was a climate champion, the demonstrators roared with hearty laughter.
"It's a joke that Senator Whitehouse is an environmentalist," said a protester when asked by an audience member what they found so funny. "He needs to stop supporting Spectra's fracked gas pipeline expansion. He's not a climate champion. He's a climate clown."
Activists then walked to the stage and held a banner reading "Fracked Gas Kills" in front of the Senator. Asked to leave by police, the protesters left the auditorium chanting, "Hey hey, ho ho, ha ha, ha ha!"
Apparently, after Yale campus police had cleared the room of laughing rioters, Senator Whitehouse joked that he was glad that open debate was alive and well at Yale.  Police-moderated debate in the time of free speech zones! There you have it.
Prior to the senator's speech, about 30 demonstrators from 350-Connecticut and Capitalism vs. the Climate protested outside the conference in opposition to his support of fracking.  Capitalism vs the Climate quoted several examples illustrate Senator Whitehouse's record as a fracking champion:
Spectra Energy's website lists Senator Whitehouse as a supporter of their so-called "Algonquin" pipeline expansion in the Northeast states.
Senator Whitehouse praised fracking as a "blessing" in a 2014 interview: "I think it's been an economic and environmental blessing to have gas as a bridge."
Senator Whitehouse's third largest campaign contributor in 2012 was Goldberg, Lindsay & Co., an investment firm that owns several natural gas distribution and pipeline companies. Goldberg, Lindsay & Co. also contributed $20,000 to the Senator's "OCEANSPAC" that distributes money to candidates who support "ocean and environmental issues."
Indeed, Senator Whitehouse —in the dedicated company of the other environmentalists of our congressional delegation— has consistently supported fracked gas a bridge fuel.
Early in January, I wrote to Lynsey Gaudioso, the `New Directions' conference chair, to convey my dismay that Senator Whitehouse would be an honoree and keynote speaker at the conference.  Not that I ever received a reply, or expected to, but one of my arguments was:
A plaintiff in one of the suits brought by Our Children's Trust sued the federal government "for making decisions that threaten our right to a safe and healthy planet."  This right is enshrined in public trust law and demands that government act as a trustee in the management of essential natural assets. Building more fossil fuel infrastructure will delay developing a green power sector, while fracked gas has a larger greenhouse gas footprint than coal and oil. In other words, the policies Senator Whitehouse supports clash with his duty to protect the common good.
Regarding this last point, Bill Moyers recently interviewed Mary Christina Wood.  She argued that it is the responsibility of government to hold in trust the health of earth's environment for present and future generations:
If this nation relies on a stable climate system, and the very habitability of this nation and all of the liberties of young people and their survival interests are at stake, the courts need to force the agencies and the legislatures to simply do their job.
Instead, our legislators support policies that are manifestly inconsistent with their fiduciary duties as trustees of Nature's Trust.  In addition, the executive is in bed with the "stakeholders" it should be overseeing.  As a case in point, just think of the agency whose "oversight" was responsible of BP's Deepwater Horizon disaster. Yes, that's the famous Mineral Management Service of an ethics scandal, involving sex, drugs and graft.  Finally, we have a complicit judiciary that fails to enforce the general requirement that legislative trustees avoid impropriety and the appearance of impropriety.
Oh, oops, I forgot; a $20,000 donation is free speech!
Climate activists disrupt Whitehouse speech at Yale

,