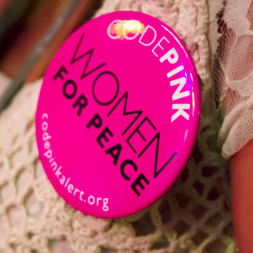 Multiple peace groups are targeting Textron because the Rhode Island-based conglomerate provided cluster bombs to Saudi Arabia that were used in the conflict in Yemen, injuring civilians and contributing to a growing human rights catastrophe in the severely impoverished Middle Eastern nation.
CODEPINK, a female-organized anti-war group, the Cluster Munition Coalition, (ICBL-CMC) an international group that lobbies against cluster bombs, Pax Christi, a Catholic peace organization, the American Friends Service Committee, a Quaker group, and others plan to protest at Textron's world headquarters in Providence, 40 Westminster St., on Monday at 4:30.
"The only beneficiaries of Endless War have been the huge military industrial complex," according to a news release from the groups. Textron, according to the release, "produces many pieces of the war machine."
After a Human Rights Watch report detailed the dangers posed by cluster bombs used by Saudi forces in Yemen, RI Future reported that local RI business Textron made and sold the cluster weapons in question. Textron is one of only four private businesses in the world that still makes cluster bombs, and the only one in North America  and recently sold cluster bombs to Turkey, Oman, United Arab Emerites, South Korea, India, Taiwan as well as Saudi Arabia.
Cluster bombs have been outlawed by 119 nations across the planet because of the indiscriminate harm they can cause to civilians during and after military conflicts. They are not banned by either the United States or Saudi Arabia.
"When these weapons are dropped, it is impossible to be sure they will not hit people's homes or neighborhood. Each cluster munition contains many small submunitions- some of which do not explode when dropped," said Megan Burk, director of the International Campaign to Ban Landmines – Cluster Munition Coalition, who will speak at Monday's action. "These unexploded submunitions act as landmines."
CODEPINK recently started a petition asking Textron to end production of cluster bombs.
"We, the undersigned, call on Textron Industries and CEO Scott C. Donnelly to immediately cease all sales of munitions to Saudi Arabia," it says. "Textron's munitions have been part of a campaign that has caused the death of 3,000 innocent Yemeni civilians. It's time for this to stop. Please immediately cease all weapons sales to Saudi Arabia to ensure that your products are not used to commit further atrocities."
After protesting at Textron, the group plans to deliver a copy of the petition to Rhode Island's congressional delegation. Most of the delegation has spoken out against the use of cluster bombs.
"Cluster munitions pose an unacceptable danger to civilians," said Congressman David Cicilline. "I've advocated for restricting the use of these weapons in the past, and I'll continue working to limit the risk they pose to civilians."
Senator Sheldon Whitehouse, a co-sponsor of the Cluster Munitions Civilian Protection Act, said, "Cluster bombs can take a terrible and lasting toll on civilians, which is why I've cosponsored legislation to restrict their use. I hope the Senate will take action on this bill to help protect innocent civilians from these dangerous weapons of war."
Senator Jack Reed, the senior Democrat on the Armed Services Committee, "has supported efforts to limit the sale and transfer of cluster munitions and to ensure the use of more precise technologies to protect civilians," according to spokesman Chip Unruh.
Read RI Future's full coverage of Textron's cluster bombs here: