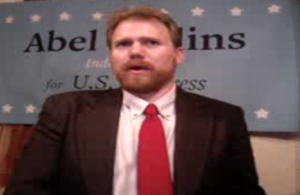 Abel Collins would have been a great addition to WPRI's CD2 debate last night, but how he handled his exclusion also gives voters a good glimpse as to how he might govern.
He organized a fantastic grassroots effort to petition the station to change its mind and include him on the stage. He also came up with a smart idea to effectively add himself to the debate by using free internet technology to stream live his debate answers after WPRI had spent probably tens of thousands of dollars to prerecord their debate.
In Collins' live-streamed response, he spoke mostly of doing more for the middle class, government gridlock and holding Wall Street barons, like his Republican opponent Mike Riley, accountable for the damage their industry has inflicted on the working class. So did Jim Langevin. On big picture economic issues, he and Langevin are not that all that far apart – which makes them several universes removed from Riley, who's more akin to Ron Paul than John Chafee.
He not only talked the talk of sticking up for regular Rhode Islanders, Collins also showed he knows how to walk the walk and use people power and proletarian tools to take on corporate interests.
That said, his campaign delivered their more than 1,100 signatures to WPRI after it held the debate, which took a some air out of the rally's sails. And his live-streamed response was at best clunky (thanks in no small part to its media partner on the project – me!). It looked, as it was, homemade (so did Riley's campaign productions in his pre-TV days). And his staff forgot to record his response, so there is no evidence of it.
Collins is perfectly in pitch with the progressive platform, and his would be a fantastic voice for Rhode Island in Congress, but he might not be ready for prime time. His energy and ideas would have been better used on a run at a State House seat.