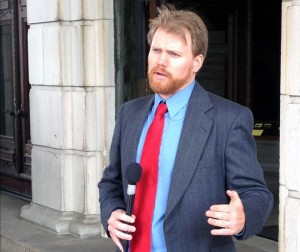 For progressives living in the Second Congressional District, there's no tougher choice on this year's ballot than deciding whom to vote for in the race between Jim Langevin and Abel Collins. Both are sufficiently liberal to warrant your support, but they represent opposite extremes of the left side of the of the state's political spectrum, and would bring very different attributes to the office.
Langevin would continue the consistent and competent job he has done representing Rhode Islanders while Collins would instantly be among the most liberal members of Congress. Both have their benefits.
Langevin will continue to amass clout in the Congress, and by and large he's done well by progressive Rhode Islanders.
On economic matters, which are of the utmost importance this election, he's proven almost, but not quite, as progressive in his voting record as either Senator Sheldon Whitehouse or Congressman David Cicilline – the standard bearers for representing Rhode Island's liberal base inside the beltway.
On social issues, Langevin has moved left during his tenure in Congress, and I've got a lot of respect for politicians who are open-minded enough to evolve. He's a practicing Catholic who has done a great job of standing up the bully tactics of Bishop Tobin, and I've got a lot of respect for that too.
Langevin now believes all couples should be able to marry, which wasn't always the case. While he's anti-choice on abortion issues, it's hard to argue with his very personal reasons – because of the accident that left him wheel chair-bound since he was 16, he wouldn't wan to deprive anyone of a chance at life. Besides … given how far to right the House has shifted on social issues, Langevin can generally be counted on to vote with the good guys on the choice issues that do come up.
Collins, on the other hand, is not a compromise.
He's what progressives should want their politicians to think like. He'd fight for a fairer tax code, and we already know from his service at the State House that transportation issues are tantamount to him. He's also a tireless advocate for the environment, sustainability and civil liberties. These are arguably the most important issues for the country grapple with if we're to fix our economy in a meaningful way.
His downside is he's still a little politically naive, and the Collins campaign has been something short of a well-oiled machine. Some of that has to do with money, and a lot of that has to do with his lack of party support, but some of that also has to do with leadership and Collins would have done well to have learned the ropes a little better before running for U.S. Congress. My biggest beef with Abel is he could have been an effective state legislator if he would have run for a seat there this year.
Thanks in large part to Mike Riley's lackluster campaign, I'm confident enough in a Langevin landslide to throw my humble support behind Abel Collins, but if he were running in the First District, I'm not sure I'd be writing the same thing … That said, I firmly believe it would be great thing for both Rhode Island and the progressive movement if he could pull off an upset.
Abel Collins for Congress

,