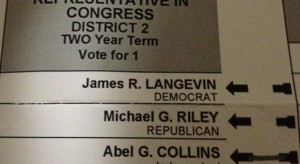 Either independent congressional candidate Abel Collins is doing better than previous polls predicted, or how well he is doing is in the eye – or methodology – of the pollster asking the question.
The Collins campaign would have you believe the former.
It released an email-based poll conducted by CCRI political science professor Eric Siegel showing Collins garnering 16.1 percent support among respondents. That's compared with 9.2 percent in a recent WPRI poll, and 4.7 percent in a more recent Brown poll.
The email poll showed incumbent Democrat Jim Langevin with 47.6 percent, compared to 52.6 in the WPRI poll and 49.4 percent in the Brown poll. Mike Riley, the Republican, got just 22.3 percent support in the Collins poll, compared with a similarly paltry 29.1 percent in the WPRI poll and 31.5 percent in the Brown poll.
Siegel, a former Green Party committee chair whose business Aqua Opinion and Policy Research was hired to conduct the poll though he is also serving as a volunteer with the Collins campaign, said email polls better reflect the electorate than do polls that utilize landlines, like the WPRO and Brown polls.
The logic goes that those who still utilize landlines tend to skew conservative – so even if the landline-using respondent is a registered Democrat, for example, he or she may tend to be a more conservative Democrat than, say, a registered Democrat who has ditched the landline for a cell phone or Skype. However, the same logic only politically reversed should also hold true … would those who would respond to an email poll tend to skew left? My guess is yes.
In other words, in either circumstance you might get the same amount of registered Democrats (or Republicans, for that matter) responding, but they might tend to be from different ends of the spectrum of registered Democrats or Republicans or unaffiliated voters.
There's another difference in the Collins poll. Siegel weights his responses to match the demographics of the district, whereas the other two polls call the requisite number of households until they reach a demographic sample that matches the district.