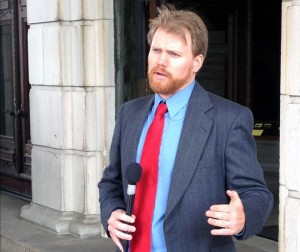 Congressional candidate Abel Collins will be participating in the CD2 debate tonight. Well, sort of.
The Collins campaign will either livestream their candidates responses to the debate questions immediately after WPRI's portion ends at 8 p.m. or it will release a You Tube video of their responses to the questions later that evening. Either way, you'll be able to watch Collins participate in the CD2 debate on RI Future.
WPRI, which made an editorial decision to exclude Collins from its debate, taped the event earlier today. Collins has a rally planned at the station today at 5:30 to deliver a petition with more than 1,100 signatures asking for him to be included.
"I am disappointed that this debate was recorded earlier today, and we we're not given the chance to deliver our petition to station management before the debate started, but it has been clear to us that WPRI/ FOX Providence never intended to have us on the stage next to our opponents," Collins said in an email. "We will have our say and we will make our case to the voters in Rhode Island's Second district."
Campaign Manager Dave Fisher added, "It gives one pause that this debate is the only one in the series that was pre-recorded. It seems that the station management knew for some time that there would be public backlash to the exclusion of Abel from this debate. This entire process has been an affront to our democratic principles."
Fisher added, "If Langevin and Riley had any integrity whatsoever, they would have boycotted the debate."
Langevin did say he wanted Collins to participate in the debate.