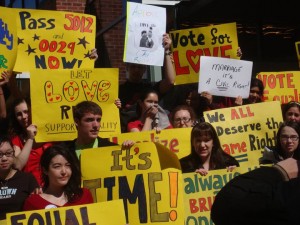 Today is National Coming Out Day, a time when we celebrate coming out as lesbian, gay, bisexual, transgender, queer or an ally. It's an important opportunity to remind our family and friends that building and maintaining a safe society where LGBTQ people can live truthfully and openly requires constant vigilance.
In less than a month Rhode Islanders will go to the polls to decide who will represent them in the General Assembly. Shame on us if we don't stand up, raise our voices and work to elect pro-equality candidates who represent the interests of all families.
We're closer than ever to having the votes needed to finally pass marriage equality, and so today, we're asking you to do one thing: Will you commit to coming out to just one event to help elect pro-equality candidates before Election Day?
If you've never been involved with a campaign before, that's great, we recognize that history is made by the first-timers. Your efforts on the phone or at the door could make the difference in whether or not we elect pro-equality majorities in the House and Senate.
So whether you're an LGBTQ Rhode Islander or straight ally, there couldn't be a more important time to join this historic civil rights effort and encourage our elected leaders to come out for equality.
Coming Out for Equality

,