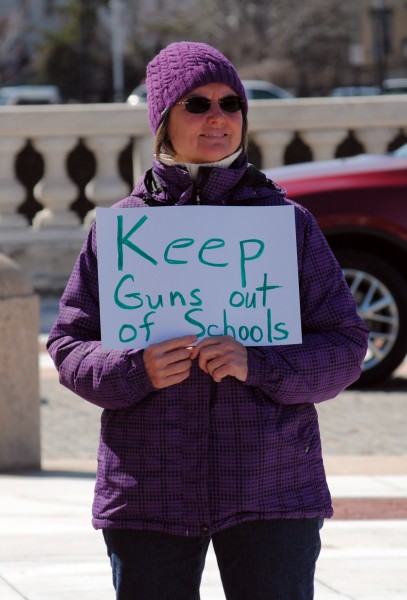 The State House will be a raucous, contentious place this evening as a series of bills dealing with guns will be heard in the House Judiciary meeting in room 101 at the rise of the House, around 4:30-5pm. Testimony is expected to run until late in the evening. Ahead of the testimony the 2nd Amendment Coalition, the Official National Rifle Association (NRA) Affiliate for the State of Rhode Island, is holding a rally at 3pm in the State House rotunda and they will have a parade of guest speakers.
The Rhode Island Coalition Against Gun Violence (RICAGV) is backing three bills.
H7283 would take away guns from those convicted of domestic violence misdemeanors.
"Rhode Island law prohibits gun ownership and possession by individuals convicted of a domestic violence felony," says the RICAGV, "This law is weaker than federal law which prohibits gun ownership and possession by those convicted of domestic violence misdemeanors. There is ample evidence that misdemeanor domestic violence offenders present an extreme risk to domestic partners when in possession of a firearm. Rhode Island should help protect the victims of domestic violence, not their abusers."
H7243  would close a loophole that allows guns in schools and on school grounds.
"Concealed Carry Permit (CCP) holders can carry their weapons 'everywhere' including schools, but not in RI courthouses, airports and most government buildings," says the RICAGV, "RI's concealed carry law came into existence in 1990, long before Columbine and other school shootings, so schools were not exempted at that time. Currently, any CCP holder (staff, parent, visitor) can carry a firearm on school grounds including the school, surrounding property, parking lots, and after school sporting events and gatherings without knowledge of police or school officials."
H7199, a high capacity magazine (HCM) ban, limits the number of rounds in a weapon to 10.
"Limiting HCMs to 10 rounds saves lives," says the RICAGV, "Limiting rounds in a magazine requires that a shooter pause to change out the magazine. The shooter in Sandy Hook Elementary School killed 20 small children in less than 5 minutes with HCMs. Evidence reveals that several children escaped the schoolroom when his magazine jammed and he was forced to reload. Similarly, the shooter in the Gabby Gifford Tucson, AZ mass shooting was disarmed when he dropped his HCM clip during reloading. This enabled bystanders to subdue him saving lives."