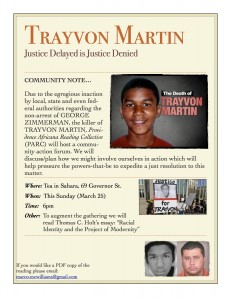 Due to the egregious inaction by local, state and even federal authorities in Florida regarding the non-arrest of GEORGE ZIMMERMAN, the killer of TRAYVON MARTIN, and given the complex racial dynamics and their implications for Black males nationally, the Providence Africana Reading Collective (PARC) will host a community action forum.
We will discuss/plan how we might involve ourselves in action which will help pressure the powers-that-be to expedite a just resolution to this matter.
I've spoken with the Florida State NAACP President, Adora Obi Nweze, and the national communications director, Derrick Turner. They've detailed specific actions the NAACP is either organizing or coordinating with other Civil Rights and Black organizations on, both in Florida and nationally. I will report back this info to the community here in Providence this Sunday evening at the Providence Africana Reading Collective's gathering.
I am also in conversation with other activist and community leaders here in Providence about the prospect of holding a Million Hoodie Protest March here in the city in solidarity and justice for Trayvon Martin and his family. This idea will be explored further at the PARC community forum.
Please come and bring your thoughts and voice!
Where: Tea in Sahara, 69 Governor St.
When:  This Sunday (March 25)
Time: 6pm
Other: To augment the gathering we will read Thomas C. Holt's essay: "Racial Identity and the Project of Modernity." Those interested in reading the text may email me at marco.mcwilliams@gmail.com