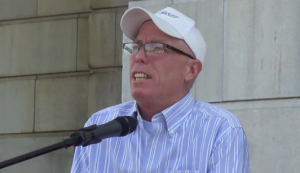 Rhode Island should indeed be proud as it is the only state in the nation to pass a law that specifically protects the rights of the homeless. The newly-enacted Homeless Bill of Rights protects those without homes by ensuring they can vote, that they can rent an apartment, that they can get a job and that they can be free of unnecessary public harassment.
And while Rhode Islanders should be proud of the law we passed, we should also take a moment to be grateful to the person most responsible for its passage: John Joyce.
Formerly homeless himself, Joyce now advocates for those in the position he once found himself in. And no one does it any better than he does. He not only wrote the first draft of the bill, he could be found at the State House almost every day of the legislative session lobbying for its passage.
At one point, near the end of the legislative session when the bill was seeming like a long shot, he even made handouts depicting House Speaker Gordon Fox and Nicholas Mattiello as old west outlaws with the words "wanted" over their mugshots because the two were seen as impediments to the bill.
So congratulations, Rhode Island, on being the first state in the country to pass a Homeless Bill of Rights. And congratulations to John Joyce for successfully shepherding it through the legislative process  … I for one am very glad my community has both this law in particular and John Joyce in general.
Be safe, John.