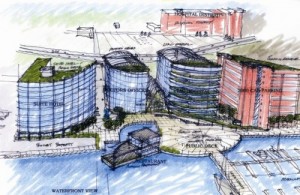 PBN reported last week on the sale of Conley's Pier along Allens Avenue. Under Cicilline, the city had sought to rezone the hospital adjacent section of Allens Avenue to mixed-use, to allow developments like the one pictured with plans for a hotel, office building, private marina, cruise ship terminal, retail, a floating restaurant, and public walkways for visitors.
The development would create 2,000 permanent jobs and help redefine an industrial area into a waterfront attraction, according to Rhode Island Medical Arts. Its managing director, Stanton Shifman, said the project would cost between $350 million and $400 million to develop and that the site's existing building would remain.

"We like the location, which is in easy proximity to the hospitals," Shifman told PBN. "We like the idea that we can [utilize] the water, which is certainly an attractive area."
Problem was, industry lobbyists had other ideas, and with the election of Mayor Taveras the proposed zoning changes never happened. At the time we were told that with Providence's deepwater slips, maritime uses needed to be the only uses for those waterfront lots. So who bought the property? Offshore windmill turbine construction? Short-sea shipping? Nope… National Grid?!
Power utility National Grid has purchased Conley's Pier on Allens Avenue for $4 million, former owner Patrick T. Conley said Tuesday.

National Grid plans to clean up the 4.25 acre waterfront property, which was once a manufactured gas plant, and then return it to "productive use," company spokesman David Graves said Tuesday.

Asked what that productive use would be, Graves said the utility has not identified one yet.
It's certainly not clear what connection National Grid has to the "working waterfront" (read polluting industry legacy uses). Don't get me wrong, the clean up is good news and at least it's not another scrapyard. But it's likely we can look forward to the tax revenue generated by low density use like another parking lot. Taxpayers can only wonder what kind of revenue a mixed-use would have generated.
"I am profoundly disheartened," Conley said in a statement about the sale. "If you spent over $8 million attempting to implement the city's expensively-produced Providence 2020 plan for the Allens Avenue waterfront, a $4 million forced sale brings no joy, especially when much of that sum was paid to a bank in the form of interest and penalties."
Yes, in Providence everyone's making sacrifices… public employees, nonprofits, businesses, homeowners. But a deal to expand the tax base at the expense of the polluting lobby? Fuhgeddaboudit.
Conley's Pier Sold

,