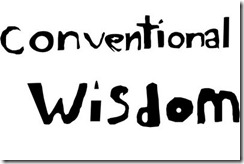 I love that Ted Nesi kicked off his weekend column by invoking the concept of conventional wisdom. It's a topic that came up often last week about why RI Future does what it does in the manner in which we tend do it.
Conventional wisdom, I explained to Ted in an email, is why I devote so many posts to critiquing the mainstream media (here in RI, one newspaper and one or two radio and TV stations each) and the marketplace of ideas (the rest of the collection of communicators who, from Twitter to TV, broadcast our thoughts): for good, bad or indifferent this relatively-random though not-all-that-eclectic chattering class is largely responsible for what the rest of the residents know about Rhode Island. We foment and solidify conventional wisdom.
Think about it: most Rhode Islanders don't actually know the first thing about life on Smith Hill or local politics beyond the headlines, tweets and soundbites that the chattering class feeds them – some of whom themselves are getting their information second hand! I almost wrote a piece a few weeks back about how, of course, the media is responsible for Chafee's approval rating – whatever it happens to be – the real question is whether he deserves the approval rating he has.
Conventional wisdom is also what makes Forbes blogger Ted Siedle's posts on Raimondomania so politically consequential for Rhode Island. He wrote his first post in response to an Institutional Investor article that said she "defies conventional pension wisdom."
But prior to the Siedle posts conventional wisdom in Rhode Island held that Gina Raimondo was a benevolent reformer who had enriched Rhode Island at the expense of the unions (which, by the way, the chattering class, as an organism, tries real hard to paint as Public Enemy #1). Sure, Mike Downey and I had publicly called her a Wall Street Democrat, but we're part of what the chattering class by and large sees as the dastardly special interest known as labor. And, for what it's worth, me and Mike are pretty easily dismissed by said chattering class…
…A Forbes.com columnist known as the Sam Spade of Money Management, not so much though.
The Siedle posts pointed out the indisputable fact that the manner in which Raimondo has invested the state's pension fund will be a huge boon for the hedge fund managers and venture capitalists who get the work while many experts including Warren Buffett believe it is a bad bet for Rhode Island. That hadn't been reported yet.
I believe the Siedle posts shifted the conventional wisdom on Gina Raimondo. Whereas it once held that she had taken from labor and given to the taxpayer, it now also holds that she then subsequently gambled that windfall with her Wall Street cronies who are the only guaranteed winners in ever-unfolding drama that conventional wisdom dubbed "pension reform" until Forbes.com called it "a money grab."
Conventional wisdom shift on Raimondomania

,