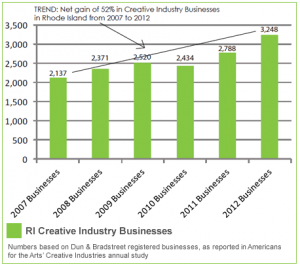 Sure, unemployment is still high in Rhode Island and the state has roughly 280 less jobs in the video game sector, but it's not all bad news out there in the local economy. In fact the "creative sector" of the economy grew by 6 percent last year, according to a study by the RI Citizens for the Arts.
The creative sector – which includes performing and visual arts, museums, film, radio, and TV, design and publishing and arts schools and services – added 770 jobs between 2011 and 2012, according to the report and 460 new businesses were created, for a 16 percent growth.
Since 2007, the creative sector has added 52 percent more businesses and overall job growth has grown by 13 percent.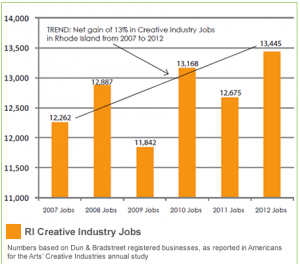 "Anecdotally, we've long understood the creative industries as a strong and resilient sector, and a significant asset to RI's economy," said Libby Slader, the chairwoman of RI CFA who owns an interior design firm. "With these compiled figures, we now also have concrete evidence. This is truly a solid basis for more growth and makes for a wise investment in our state. In addition to providing core industry jobs, the creative sector feeds innovation and entrepreneurship.
According to the release, Senate President Teresa Paiva Weed agrees. In a statement provided by RI CFA, she said:
"Rhode Island's creative industries play an important role in building and sustaining a strong economy. This annual report reinforces the importance of this vital sector to our overall economic health. Jobs are being created in the arts-related businesses, which are important to tourism and broader economic development efforts."