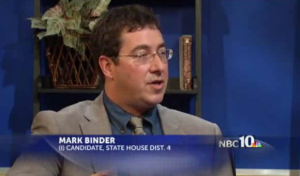 "Are you a credible candidate?"
I've heard that question again and again and again. What it's code for is, "How much money have you raised?" (And "Do you own a car?")
I learned during my first campaign that the press and media have a Woodward and Bernstein relationship to money. (Remember the scene from All the President's Men where Jason Robards growls, "Follow the money!") Money is something you can measure and count. The Board of Electors requires regular mandatory filing  of campaign contributions and expenses. So it's easy to find out how much money someone has raised, who contributed it to their campaign, and where they spent it. This gives "the media" the illusion that they have the measure of a candidate.
It's the reason that you hear so much about presidential fundraising. If they have more money, they must be getting more votes, right?
Bought and Paid For?
Why do people donate money to campaigns? Sometimes it's because they believe in the candidate and her/his mission. Sometimes they want to oppose the opposition.
And sometimes they just want a favor down the road…
For example, let's say that an important piece of legislation is coming before the House on say, Auto Body Repair. And you know that nothing gets on the floor without the Speaker's approval.
Do you think that more than $3,000 worth of campaign contributions from people who work at Auto Body shops makes a candidate more "credible" or have they been "bought and paid for"? (See Gordon Fox's filing for January-March, 2012)
10 News Conference
I was all excited. Last week I'd received an email from Stephanie Cunha inviting me to participate in the 10 News Conference program with my opponent, (soon-to-be-former) House Speaker Gordon Fox.
Then I got nervous. Here I was, the "challenger" going up against a 20-year politician. I did a lot of preparation and homework, and when I got to the TV station, I learned that he wasn't coming. Instead it would be Jim Taricani and Bill Rappleye and me. For a time, I got even more nervous. Me and two journalists. I was worried that they might tag team me…
Maybe I could talk to an empty chair, I joked.
Instead it was a wonderful gift. I had a full half hour news broadcast to explain why I got into the race (38 Studios and Mr. Fox's continued silence and refusal to take any responsibility), what else bothered me about my opponent (wimping out on Gay Marriage… not letting the Payday Lending reform come to a vote, even though 50 representatives had signed onto it… 38 Studios and Michael Corso… creating an atmosphere of fear in the State Capitol… 38 Studios), and even time for some thoughts on public education (reduce testing, decouple testing from teacher evaluations, halt the end of session midnight merger of the Board of Higher Ed and the Board of Regents…).
Finally, they asked me the question I'd been waiting for, "Are you a credible candidate? You're going up against the Speaker of the House."
Believe it or not, it was an upbeat and positive and jovial time.
The air date: NBC 10 on Sunday, September 16 at 11:30 a.m. to watch, and then ask yourself the question, "Is this a credible candidate?"
Or you can watch it here:
Mark Binder Takes Campaign to TV

,