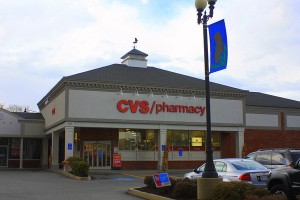 A California judge has ordered Rhode Island-based CVS to pay $13.75 million in fines to 45 cities and towns in the Golden State for improper dumping of hazardous materials and hypodermic needles.
"The Rhode Island-based chain came under investigation two years ago after allegations that it mishandled medical, pharmaceutical and photographic waste at California stores over a seven-year period," reports the Associated Press.
According to Palo Alto Patch: "The investigation began after environmental enforcement officials from the state of Connecticut similarly inspect CVS's practices. California health inspectors and prosecutors found evidence of the violations and worked with CVS stores to correct these practices."
Here's a statement from CVS spokesman Michael DeAngelis:
CVS/pharmacy has been working closely with District Attorneys across the State of California to develop a comprehensive environmental program to ensure we document, store, handle, and dispose of hazardous waste and other materials in compliance with applicable State regulations.

CVS and the DAs involved have reached a settlement agreement that resolves environmental issues for certain CVS/pharmacy facilities in California, many of which were acquired during the time period covered by the settlement and some of which have since been closed. As part of the settlement, the company has agreed to pay $13.75 million. Per the agreement, there is no admission of any wrongdoing in relation to these issues.

As a pharmacy health care company dedicated to helping our customers on their path to better health, we are particularly sensitive to the need for a healthy environment and recognize our responsibility to promote this commitment throughout our organization.
CVS Fined for Dumping Hazardous Waste in CA

,