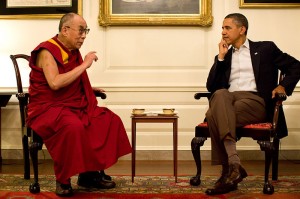 Tenzin Gyatso, the 14th Dalai Lama, is currently about halfway through his two week visit to the United States, and will be speaking on Wednesday at Brown University's 86th Stephen A. Ogden Jr. '06 Memorial Lecture on International Affairs to be held at the Rhode Island Convention Center.
The talk is entitled, "A Global Challenge: Creating a Culture of Peace" and will presumably offer spiritual and philosophical arguments bearing on the Dalai Lama's commitment to a rejection of the means of violence to achieve political ends.
Over the 77 years of his life the Dalai Lama has continually advocated for the rights of the Tibetan people, especially after he was forced to flee his home country after the the People's Republic of China took control while quashing the 1959 uprising. He led the Tibetan government in exile until last year, when he stepped down after instituting a democratic process for future leadership. His unique status as leader of a government in exile and exalted religious leader has allowed him to travel the world, denouncing the Chinese takeover of his homeland, teaching about the beliefs of Buddhism and advocating on a broad range of topics such as the environment, economics (he considers himself a Marxist), women's rights (he has also claimed to be a feminist) reproductive rights and sexuality.
Looking at the long course of the Dalai Lama's career one cannot help but notice a secular shift in the Dalai Lama's views. Recently he has been quoted as saying, "…if science proves facts that conflict with Buddhist understanding, Buddhism must change accordingly." It is difficult to imagine Pope Benedict or a high ranking Muslim Imam making such a comment.
The Dalai Lama has also said, in his latest book Beyond Religion Ethics for a Whole World, "…the reality of the world today is that grounding ethics in religion is no longer adequate. This is why I am increasingly convinced that the time has come to find a way of thinking about spirituality and ethics beyond religion altogether." You might expect such a statement from atheist firebrand Richard Dawkins, not a man who is held by many to be a manifestation of Jainraisig, the Bodhisattva of Compassion.
The talk is sold out and security, provided by the U.S. State Department, will be quite high, but you can watch the talk live-streamed in its entirety and I will have a full report on my impressions of the event right here, tomorrow.
Dalai Lama in Providence

,