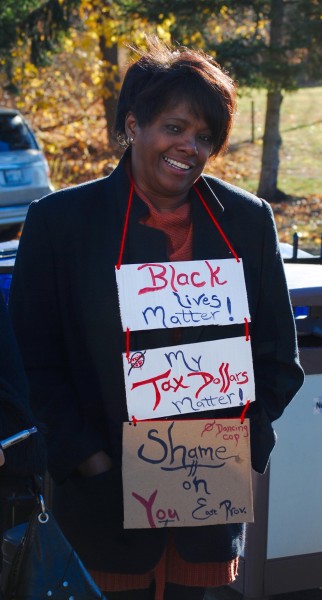 He's not a cop and he's not dancing, so we don't have to call Tony Lepore the Dancing Cop any more. Let's just call him Lepore, a guy with a knack for making news for doing nothing.
Lepore was not asked to dance in Providence this year, and he canceled an appearance in East Providence last night after protesters in sympathy with the Black Lives Matter  planned to protest him at the event.
Back in October, Lepore embroiled himself in a non-controversy regarding a 17-year old Dunkin' Donuts employee who wrote #BlackLivesMatter on a police officer's coffee cup on Federal Hill in Providence. Had Lepore stayed out of it, the entire story would have gone nowhere, but Lepore, a retired Providence police officer who is locally famous as the Dancing Cop, held a protest outside the donut shop, insisting that the young woman of color be fired for her temerity.
She was not fired, of course. And Lepore's protest ended with him settling for an apology from the donut shop management. Lepore claims that through his protest he stood up for police officers and against the Black Lives Matter movement. When I spoke to him briefly the morning of the protest, he told me that the entire controversy was because of him. He was proud to have used his minor status as a pseudo-celebrity to go after the job of a high school student. I realized then that I was talking not so much to a former cop, but to a fading d-list local celebrity clamoring for relevance.
It was sad, really.
Predictably, Providence's Mayor Jorge Elorza and Public Safety Commissioner Steven Paré decided to not have Lepore back to badly direct traffic downtown, something that had become a tradition in Providence during the holiday season. There was a small outcry over this, with some people claiming that Lepore was being discriminated against because of his politics, but let's face it:
Freedom of speech does not mean that our words have no consequences.
Enter East Providence's Mayor Tommy Rose and City Councillor Tracy Capobianco.
Writing on Facebook, Capobianco explained that when she noticed that Lepore was available for the holidays, she thought, "Hey, we should get him for a few days here during the holidays, families would like that."
Capobianco called Mayor Rose. According to Capobianco, Rose "made it happen."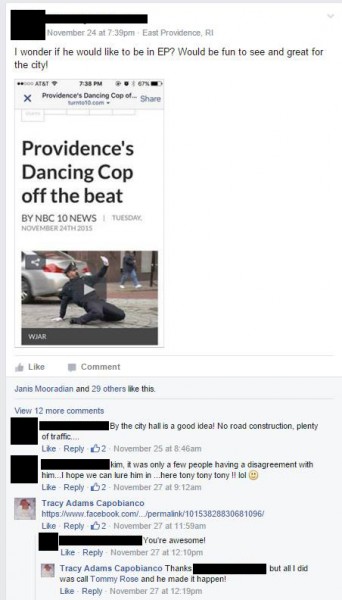 What exactly Rose made happen is in dispute. According to Lepore, Rose got him a gig doing his traffic dancing schtick outside East Providence City Hall from noon to 1:30 from December 10-24. In addition, said Lepore, he would be at the 9th Annual Tree Lighting at the Crescent Park Carousel. Lepore told the ProJo that we was getting paid $2000 for his appearances.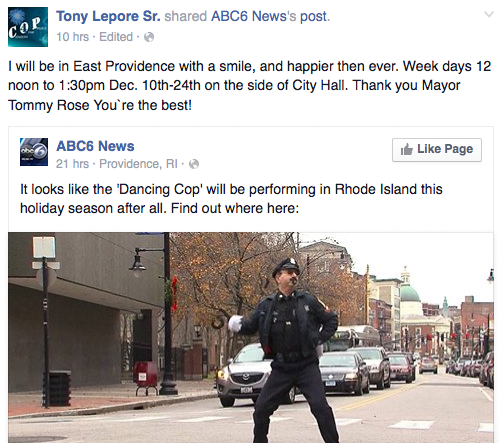 Capobianco, however, maintains that Lepore has not yet been hired by the city. She says Rose, "made it happen" by putting the hiring of Lepore on the City Council docket for Tuesday evening's meeting, and calling Lepore to see if hiring him for the season was an option. "I don't know why [Lepore] has announced to [the] media [that] it's a done deal when it's on the docket for a vote," she wrote.
As for the Carousel appearance, Capobianco said that as Rose spoke with Lepore, he either "asked him about [the] Carousel or put him in touch with someone at Carousel."
Ironically, one of the sponsors of the Carousel Tree Lighting is Dunkin' Donuts. I wonder how they feel about being constantly associated with Lepore in the press?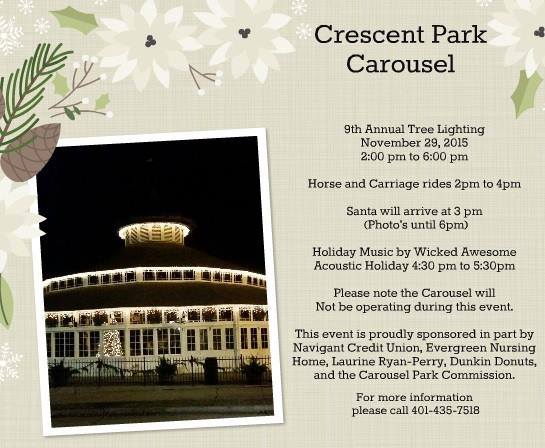 The hiring of Lepore surprised some people, and throughout Saturday residents reacted to the news positively and negatively. Many people who live in East Providence, including URI student Rodrigo Pimentel and lifelong resident Maryann Fonseca, went on Facebook and planned protests against Lepore, to take place at the Carousel Tree Lighting.
Pimentel wrote, on their Facebook event page, that the "city's choice to employ the Dancing Cop has shown that it has disregarded the issue of institutional racism, and the city is allowing enablers of institutional racism to represent the city." Fonseca, when we spoke briefly outside the carousel, wondered why her tax dollars were being spent to bring in a controversial and divisive entertainer that Providence let go.
Just before I set out to cover the protest (and probable counter protest) I heard that Lepore had decided to not to appear at the Tree Lighting. Lepore wrote on Facebook that Mayor Rose called him about the protests being planned by "various organizations affiliated with Black Lives Matter." Apparently, Rose was concerned that a protest would ruin an event that was "supposed to be a festive holiday experience for children and their families."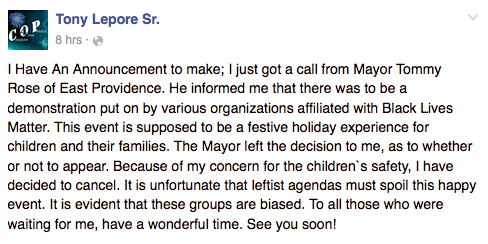 Rose, wrote Lepore, left the decision as to whether or not to perform at the Carousel Tree Lighting to him.
Lepore wrote, "because of my concern for the children's safety, I have decided to cancel. It is unfortunate that leftist agendas must spoil this happy event. It is evident that these groups are biased."
He also wrote:

Lepore may still have Mayor Rose's backing, but Capobianco's support appears to be waning. She wrote, "Seriously I thought this was such a fun idea but turns out maybe it wasn't, not the first time I've been wrong and likely won't be the last time either."
The protesters in sympathy with the Black Lives Matter  movement who showed up at the Carousel, the ones that Lepore was so worried about, didn't start any trouble of course. For the most part the people simply smiled and talked to each other and to the press. The tree lighting went off inside the carousel building without a hitch. Everyone seemed to be having great time.
But on Lepore's Facebook page, the comments were ugly and racist. Aside from the ignorant and expected responses of "All Lives Matter" there were comments made about black fathers being deadbeats, black mothers being on welfare, and black on black crime.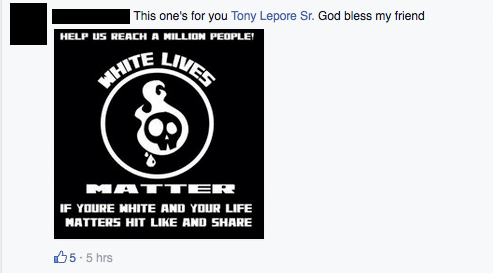 One commenter called Black Lives Matter a terrorist group and the "scum of the Earth."

Darker still were the comments that bordered on violent, as commenters spoke of bringing weapons to confront protesters, saying things like, "Carry arms then. I got my little 22 waiting. Little pistol… lots of damage" and "lol between me and you I got a .44 mag lmao."
Lepore was right in his belief that his appearance might make children and families unsafe. But it's not those in sympathy with the Black Lives Matter movement he needed to worry about, it was his own fans and supporters.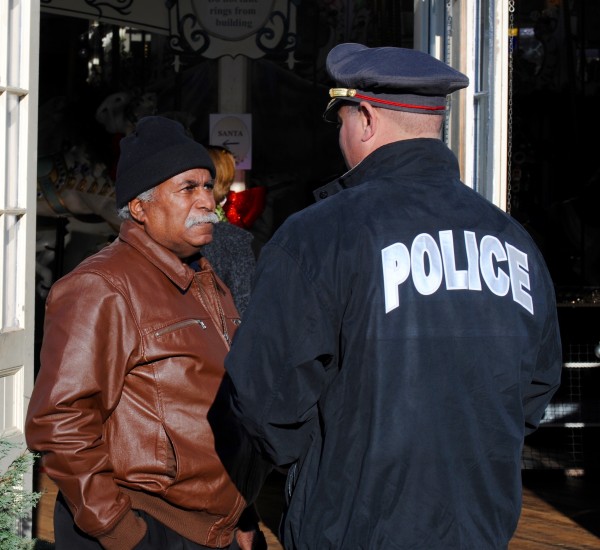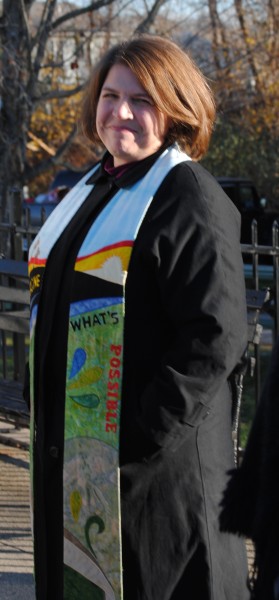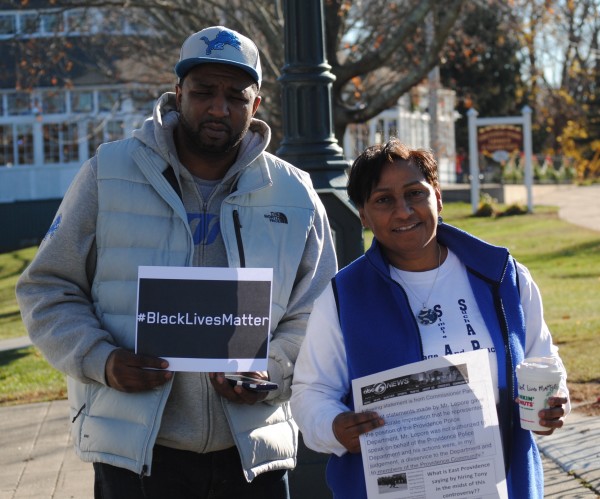 Dancing Cops' white Christmas dreams dashed in East Providence

,