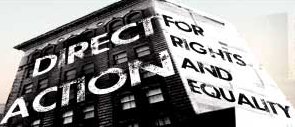 The ad hoc coalition of college and urban activists who prevented Ray "Stop and Frisk" Kelly from speaking at Brown University on Tuesday have been largely denounced across the political spectrum today. Dan Yorke of WPRO even went so far as to suggest that they be retroactively arrested!
But one person who isn't (besides Steve Ahlquist and surely Bruce Reilly, who previewed the protest on RI Future) is Fred Ordonez, executive director of Direct Action for Rights and Equality, a Providence group that works with the most disenfranchised members of the community.
Here's what he said to me in an email:
CONGRATULATIONS! to the Brown students and community members who demonstrated what people power looks like to lost institutions like Brown University, the NYPD and Rhode Island's policing community. The students showed courage and local community people who are the affected by oppressive police tactics are just plain fed up. Even if it makes some uncomfortable, know that oppressed peoples will continue to resist in any which way they can.
Much of the conversation now seems to be focused on this man's rights and the rights of those who wanted to participate in legitimizing (though this LECTURE) the oppression his policies cause. It's no surprise these institutions will continue to try and marginalize the will of the people who were outraged by his invitation, who by no coincidence are mostly people of color.
Free speech and the First Amendment that is supposed to protect it are about public spaces – street corners, parks and the like. For more info, see the recent federal court decision that busted Providence police for violating it, Reilly v Providence. Brown, as a private institution, has never been about free speech. Like most private institutions, they pick and choose very carefully who gets the mic, even more so when they pay a speaker $10,000 to wield that mic as they did in the case of NYPD Commissioner Ray Kelly. Kelly doesn't have "right" to speak at Brown any more than I have a "right" to be published in HuffPo.
Brown does have a responsibility to be thoughtful and constructive in how it chooses to hire out its forum, and in this regard the university utterly failed its students, the Providence community, and the people of New York who have been terrorized by Ray Kelly's policies and practices over the past eleven years. Students, some of whom have been victimized by police practices similar to the NYPD's racial profiling, tried valiantly to engage Marion Orr, director of Brown's Taubman Center, in constructive alternatives to this travesty. But they were rebuffed. Community members who have battled the racial profiling rampant among Providence police were insulted and angered that instead of showing an interest in the civil rights struggles of the surrounding community, Brown saw fit to surround Kelly with local police officials. The University is apparently ignorant of (or unconcerned by?) the danger faced by our local sons, daughters, neighbors and selves of legitimizing the unconstitutional and racist practices of the NYPD.
Blatantly violating the constitution over an extended period of time, despite repeated warnings of the court, doesn't give you a right to speak anywhere you want. If the University wants students to sit with their hands folded and mouths shut while Ray Kelly promotes policing strategies that are clear violations of the Fourth and Fourteenth Amendments, perhaps they should just dump massive amounts of Xanax in their drinking water supply, and stop any pretense of telling students to think critically. And even better, they could just acknowledge to the surrounding community that our struggles are merely an inconvenience they would prefer to ignore. If it's more important to the University to spend a lot of money providing a forum for a hatemonger, than to respect people from Providence to New York and beyond who have suffered the disgrace and humiliation of unconstitutional stops and racial profiling than maybe they need to just be honest and simply embrace the institution's roots in the slave trade.
In Struggle and Resistance
DARE on Ray 'Stop and Frisk' Kelly shout down

,