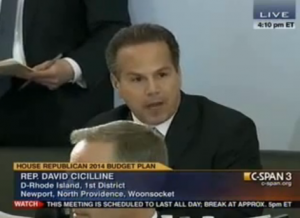 Thank you Congressman Cicilline for standing up against cuts to Medicare, Medicaid, and Social Security!
When Barack Obama proposed cuts to Social Security in his current budget, progressives were horrified.  Fortunately, in the First District of Rhode Island, we have a congressman who opposes this dangerous unraveling of the New Deal.  David Cicilline has signed the Grayson-Takano letter, formally committing to never voting for cuts to Medicare, Medicaid, or Social Security (http://act.boldprogressives.org/survey/survey_ss_grayson/#fullletter).
This is a critical move.  As American family budgets continue to be squeezed, and retirement savings continue to dwindle, Social Security is more important than ever.  We cannot afford to lose this fight.
As a member of the Budget Committee, Congressman Cicilline is in a strong position to help defend these core Democratic achievements.  But he needs allies.  Let's hope more congressmen follow Cicilline's lead.
David Cicilline Signs Grayson-Takano Letter

,